Profilers, found at Actionvillage, *all pics now of me other than mirrored lenses*
Got them for $68, i know what your thinking right now,
"Oh my good golly gosh, why would i spend that much just for a mask"
well lets go over the most important things in paintball
#1. your mask, without it you cant play,
need I go farther?
"ok so i need a mask but why this one"
The Vforce Profilers are arguably one of the the best masks out there. In my opinion they are the best.
Pro's-
#1. if you've ever tryed any Vforce products they are grade "A" nothing better. these goggles are no exeption, there lenses are mached by none.
#1.5 Vforce is soo good they give you two great options for visors, a visor and bounce promoter. they also include a microfiber bag to place your goggles in.
#2. Periphial Vison, If you've ever worn any mask it seems to block your vission at say the temples. this mask has 99% unobstructed view. the only area that might be considered obstructed was the nose because the foam sticks out alittle.
(i dont know if you know how far your eye can look, but that is about as far as you eye will go, you almost cannot tell where the lense ends when your in it.)
#3. Comfort, Very comfortable. I play in your face style of dagger, i need goggles that keep up. these mach, they retain sweat and stay gripped to my face without an annoying chin strap.
#4. Ease of cleaning, very simple, just dont use anything that will scratch the lense, and then dump watter on the rest of the mask
#5. changeing lenses, i have the Proto swich El, its compareable to that. in a diffrent way though, they are slightly difficult the first time you do it,
#6. Bounce, while some masks like the Proflex have a wide area of bounce i was not disapointed by the Profiler. it has a middle section that is verry apt to get you bounces along with flexable ears that i have gotten bounces on also.
#7. Low profiler (speaks for itslef)
#8. looks, these things, in my oppinion, look really really good!
*not myn*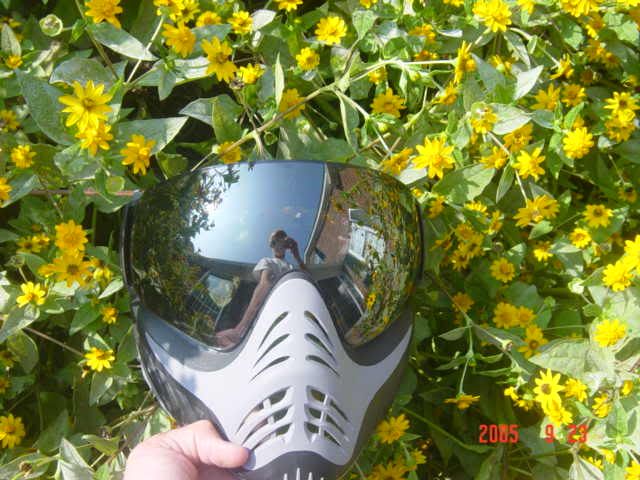 #9. Fogging, all Vforces already come with unmached supperiour anti-fog lenses so this is a no contest, infact ignore this, if your getting the Profiler you never have to worry about foggage.
#10. audio quality. some masks you cant hear a thing and you get an "echoy" feeling like your talking to yourself. the Profiler has good vents near the mouth that angle backwards so that the sound escapes easyer, so you can be heard around the whole feild.
Con's
#1. Price, i really dont think that $68 for never haveing to buy another mask, never haveing to worry about fogging is a worthy "Con" but all the same....
#2. Some people dont like how low of a profiler it is, like it doesnt protect your neck, i dont notice, i dont care, if you want neck protection get a neck protector.
Notice how your chin might get hit when yelling, i dont mind, i like it
#3. Big lenses, that means if you get shot in the goggles, you proabably got hit in the lense,
#4. Not a big problem with me but some complain that when you yell or yawn you could get hit in the mouth, or chin, at full extention of my jaw it would be hard but here's a pic.
i give this mask a 9/10 (because it cant aim for you
)
The only other goggles that compare- Proflex, E-vents, Proto Axis (or I3)
if you dont have a profiler, well what do you have then?
Im open to questions about this great product!
This post has been edited by PB Ghost: 15 April 2006 - 07:36 AM