A team mate on the Irregulators paintball team went out and did a little testing with the new First Stirke Paintball.
What follows is what he posted on our personal forums.
Credit goes to forum member Boomer14 for this.
Quote
So I got my mitts on some first strike rounds Tuesday, and had a chance to try them out after work Wednesday. For those who don't know, they are a new extended range paintball from Tiberius Arms that has seen a lot of hype in paintball forums this spring. Tiberius Arms also manufactures adapter kits and their current product line to take the new rounds. I wanted to see if the hype and product claims have any truth in them at all.
They come in a little tube of 8, and cost $6 each, or $.75 a round. That is steep no matter how you look at it. At $45/case for field paint, that is 33 times more cost per round.
Here's what $60 looks like: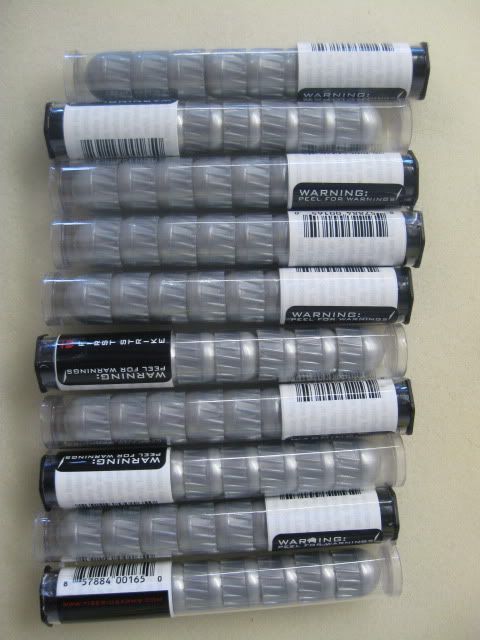 and a single round: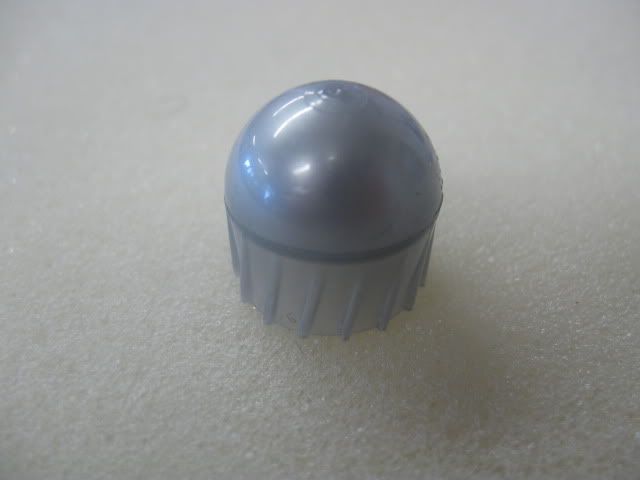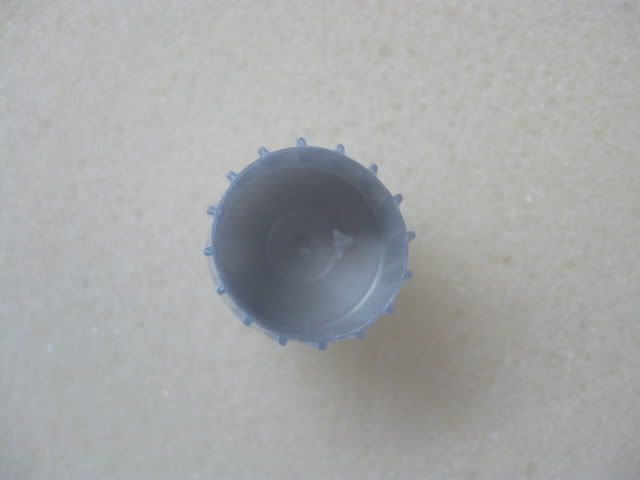 They are obviously not spherical, and are exactly .690" long and .690" in diameter and very consistant in size. The skirt and flat base seem to be one piece, with the round cap containing the fill a seperate molding.
Because they are not spherical, the uneven weight distribution makes them want to tumble as they feed, and are therefore unusable in anything but a controlled (spring) feed like a magazine. Since I do not plan on buying a Tac8 or T9, I cut my stock class phantom breach to take the skirt, and it works fine for single feeding. If someone were to make a spring feed that can work in the vertical or angled feed position, it would be possible to make a repeater out of the phantom with the first strike rounds. Because the round is not any longer than the standard ball, it can feed in existing chambers without moving the detents.
Here's the unmodified breach: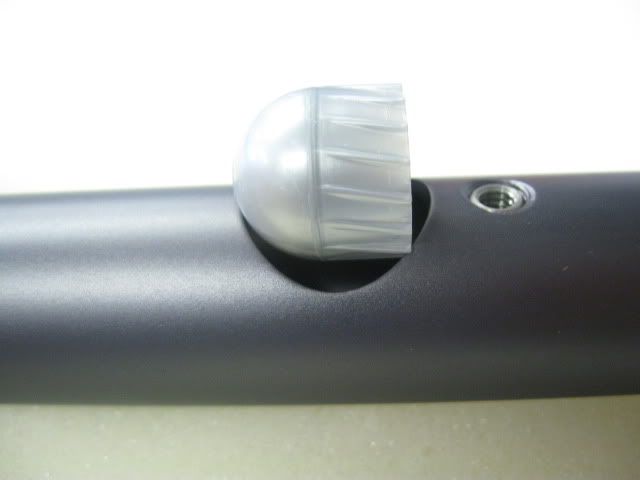 and cut away: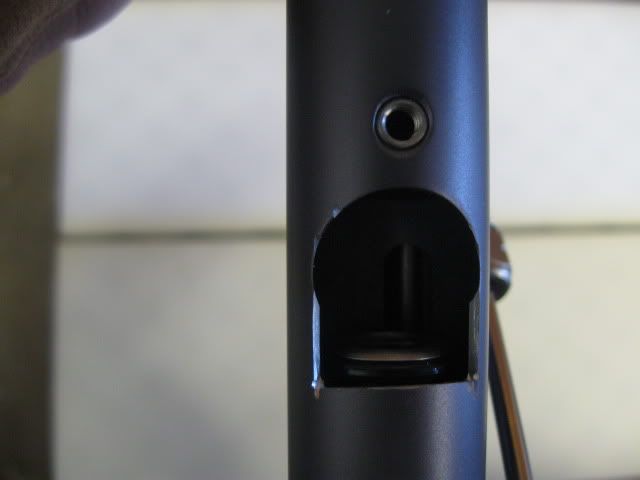 For testing purposes, I used my vector because it can mount a scope, it is consistantly accurate, and it has a non-threaded removeable barrel: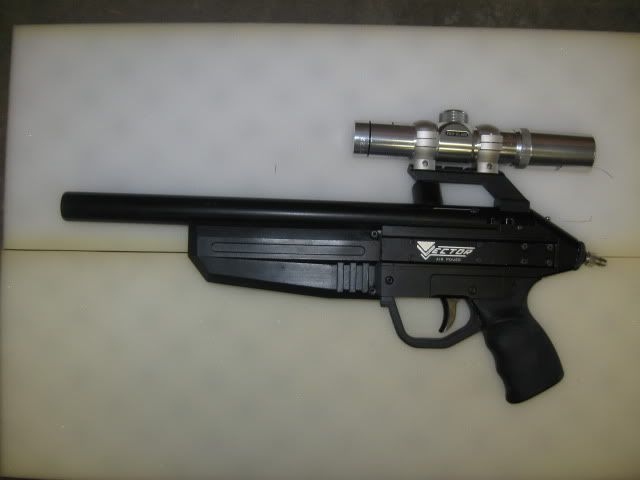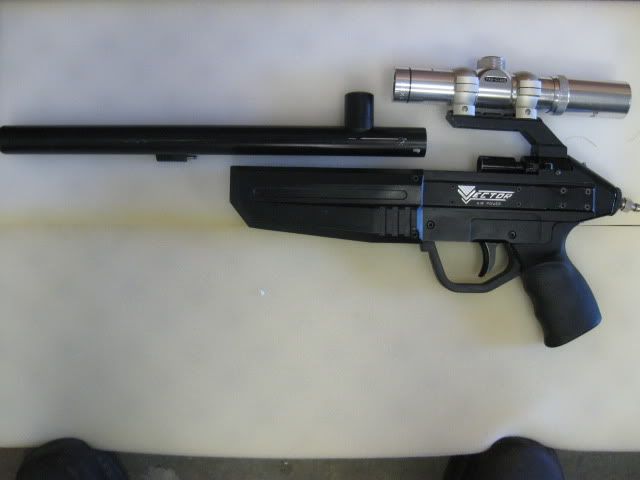 I started out testing by getting a feel for stock accuracy with Nelson Special Forces, which I usually shoot. I zeroed the scope at 25 yards using the round paint and a rifle bench rest. It consistantly shot 12-15" 10-shot groups. For the first strike rounds, the point of impact was about 4" higher at 25 yards, and the group size was about 7". That is a dramatic increase in accuracy. I am not sure if that is the result of the design or better manufacturing tolorances, or both. I can say that I did not have any wild flyers that you get with standard paint.
For velocity comparison, I set up two chronographs and shot a round so that it passed through both instruments, with the results here: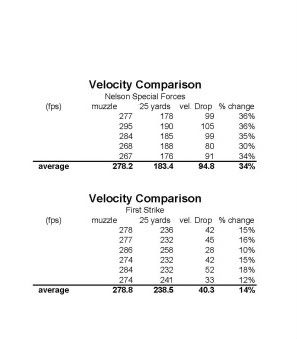 You can see that the 25 yard velocity drop is about half with the first strike than it is with standard spherical paint. Since I did not want to take out a second mortgage on my house, I limited my testing to what you see here. I know that more data is necessary to be scientifically accurate, but this gives an idea of what they can do.
I did try to get a velocity comparison at 50 yards, but without success. It is simply too hard to get the ball to cross two chronographs spread that far apart under field conditions. However, it did show the difference in point of aim at 50 yards in the two kinds of paint. With the standard paint, I had to hold over approximately 20' to get a hit on a man-sized furnace box. With the first strike, I had to hold over about 5'. I cannot get more exact than that because my scope does not adjust that much, and hold over made me lose the target in the field of view. I did manage to measure remaining velocity on a couple of the first strikes at 50 yards, and they were still at 131 and 140 fps (from about 270 at the muzzle).
As for breakage, the fin part remained intact for most that I found after impact. I even found a complete base cap in one piece. I obviously have not been hit with one, but I would guess that they would leave more of a welt than standard paint. Incidentally, I had no barrel breaks during my testing, either in my vector or phantom. Here is what they look like after impact with two layers of heavy cardboard:
So my impressions: It does mostly work as promised - about 1/2 the velocity drop of standard paint, and about twice the accuracy. The difference at 50 yards was even more significant. I would consider 25 yards the max for a 100% reliable hit and break with standard paint, and 50 yards the max for the first strike.
The cost is going to be the real hold back to these rounds ever being popular. A sight will be necessary, because the drop at 50 yards is still 5'= most of a body length. I think the best bet for a sight would be a ladder-style adjustable peep sight made to order for the trajectory. A heads up LED style would work, if it had a graduated reticle that matched the trajectory, and enough field of view to properly aim over a target precisely. Even still, a small error in range estimation or hold over, means that you miss that gog, foot, or podpack. Remember the 5' of drop between 25 and 50 yards, and it will drop off even more beyond. Consistant hits could come with practice, but at $.75 each, that won't happen for most people. It would be futile to go out with the rounds and expect to be a real threat at ranges 50 yards and beyond without instinctively knowing where that round was going to be everywhere in the trajectory. That simply takes practice.
At any rate, hitting a moving or dodging target at that range one round at a time would simply be luck once the time of flight was factored in. The time of flight with the first strike to 50 yards (150 feet) will be at least .8 seconds, and a running target could move about 15 feet in that same amount of time.
I plan on using what I have left, one round at a time, in my phantom until they are gone. When/if they come down under $.25, I might give them a look for serious play. Until then, I will be happy to shoot ropes with my cyborg and get a hit with 20 or so rounds, and, just like everyone else, make that lucky shot with my phantom when I can.
Thanks Boomer!
This post has been edited by Krazy8: 29 May 2009 - 07:20 AM