I have an ATS AT-4 for sale with a BSA Red dot, T-grip with flashlight, and a custom made loudener made by Altec. It also just came back from Gumby who fixed it up and gave it a good tune up. Coming with the gun will be the velocity adjuster, some mag parts, a regulator o-ring kit with one o-ring missing, and about 2 extra guide plates. It also comes with a brand new hopper mag that just arrived. Here are the pics: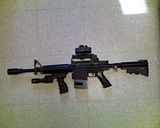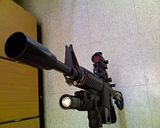 Price: $425 OBO (paypal; includes shipping)
Trades: 360+you add
PM and post if interested please!!!
If you have any questions, please ask. And just to clarify, this is a mag feed marker but there is an adapter mag that allows a hopper to be attached.
This post has been edited by Capt.Melvin4203: 17 November 2009 - 06:54 AM