Hello ballers!
As 2010 passes by you can see vast changes in the MPOC. In the 4th leg, teams battled their way to the top in Asia's first ever Sup'air arena.
VIPs included Sup'Air's Simon Fournier from the research and development team as well as Zyzek Barro from Dye Precision.
Players braced the sun as well as the rain in the finals. The results are as follow!

Division 1
Champion X-Fox
2nd Perth City Trauma
3rd Demonz Red
4th Warriors
Division 2
Champion Eastsiderzz
2nd Ronin Nexus
3rd Urban X
4th Red Sevens
Division 3
Champion Hammer Zero
2nd Zoo
3rd Pandamonium
4th Rhymber X
Division 4
Champion - KSK Flash
2nd Kejahatan 2
3rd Prolintas Legion X
4th Rock N Rolla
Congratulations To All Podium Finishers!!
The next event will be held on the 2nd and 3rd of October and it will be held in Subang Jaya Municipal Council's Mini Stadium!
For Malaysian Paintball Official Circuit 4th leg 2010 pictures, head over to
Residentevilchef.com
(Courtesy MPOC's official photographer, Dez!)
MPOC follows up to major event of Asia Region, World Cup Asia 2010, it will be held from the 25th to the 28th of November in Malaysia! Head on over to
http://paintballworldcupasia.com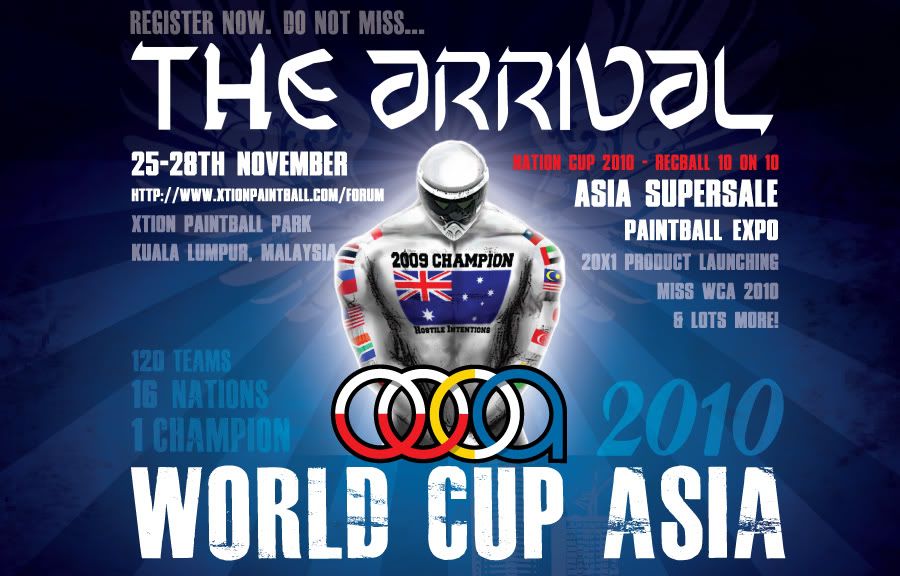 Please contact Allan @
allan@palseries.org
or Maz @
maz@palseries.org
for more info on MPOC or WCA.