It's Back! BATTLEFIELD UTAH - Utah's fastest growing scenario! With over 200 in attendance last year, the spring event from Desert Edge is better than ever.
Date: April 9, 2011
Registration: 8:00 am
Game On: 10:00 am
Cost (pre-registration): $35
Cost (at event): $40
Place: Desert Edge New World Field
First 50 Registrations get free Event Dog Tag!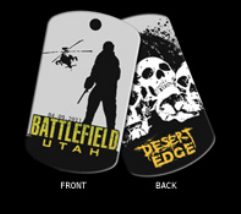 PRE-REGISTER HERE



Pre-registration ends 4/8 12:AM



Join Team Desert Edge for one of the premier scenario events of the year! Battlefield Utah is designed to provide fun for everyone from new players to experienced teams.

Players will engage in an intense mix of Scenario Competitions while battling for control over Base and Flag stations. The Scenario Competition will consist of Team Objective Missions, Sniper Challenges, "VIPs," and a few Surprises! Special roles for the Scenario Competition are limited, so early registration is strongly encouraged.

Follow us on FaceBook for all the excitement for 2011

EVENT FACEBOOK PAGE

DESERT EDGE FACEBOOK PAGE