Alright guys, today I got a BEAUTIFUL Gloss Gray Generation 3 First Endeavor Paintball QUEST! I have spent tons of time and money into this gun....only to use it for the winter season in a indoor field.
What Im looking for is Planet Eclipse Eteks or Egos that have high up's!
But if no offers are offered up, Im selling this beauty for 610 dollars, shipped! WHAT A DEAL!
On to the good stuff:
Stock:
Gloss Grey Quest $700
WAS board (comes in separate box)
Allen Key (Used for original bolt stem, which is included)
Original oring kit
Original lube
Macro line
007 barrel 14"
Coffin box (no longer made)
Original owners manual
Upgrades:
Snatch Pin (Tool-less bolt removal, makes things quick and easy) $45
Bionic Headlock (Lever style clamping feedneck) $27
Goldmember bolt (Gets a couple of extra pods) $42
Lucky Spitfire Board (installed, includes a copy of the manual) $89
Lucky No drop rail/ASA combo $29
O-Ring kit from MarkerKits.com (Mega Repair kit, includes some spare screws) $23
Extra ball detents straight from the factory
Extra Purple O-rings Straight from the factory
Total Value Just over $950.00
There is a little bit of duck-tape inside the feedneck to hold my hopper on a little better. This was done very clean though, you cant even notice it.
On to pictures (MORE PICTURES WILL COME LATER!)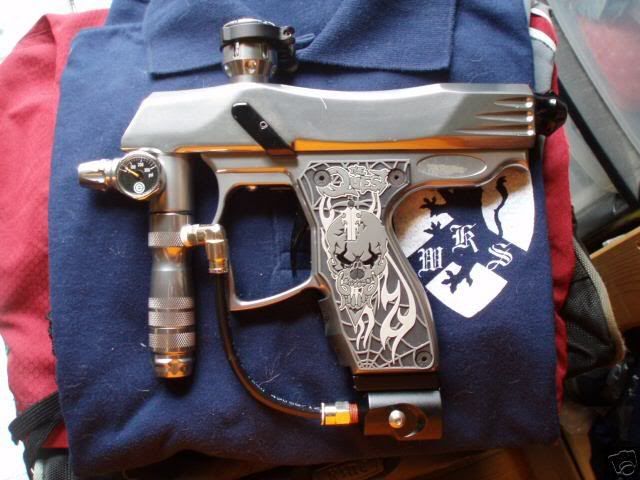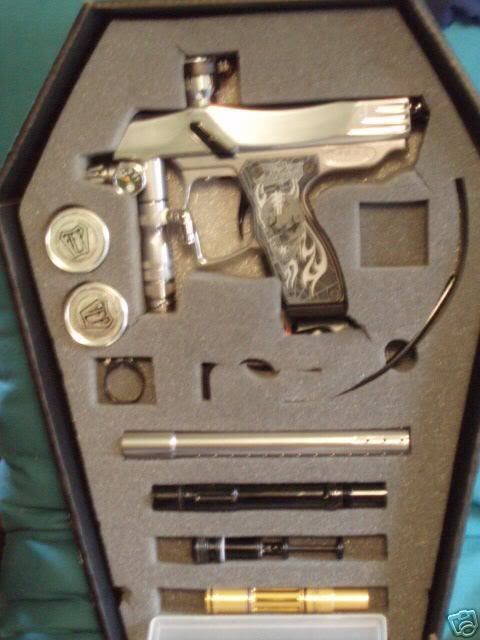 LET ME KNOW! Good luck and send me pics or you can IM me at Alfred Yahomadus
-James