ONE DAY SALE ON DYE STICKIES $6 PLUS $1 FOR SHIPPING EACH!!!
-If you think my price is too high, offer. Everything is OBO.
-I prefer paypal, but I can do MO.
-All prices include shipping in the States unless noted. Canada and other countries will be a little bit extra.
As for trades:
-CP or ST on/off black.
-sidewinder.
-offer up, I might just take the offer.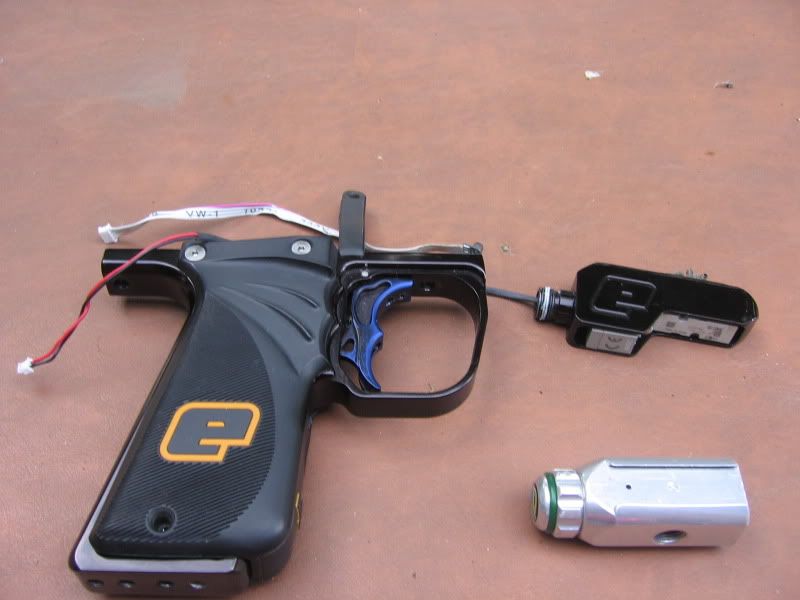 -E1.06 kit Chrome. normal wear and tear, hand made eye cover (raw). Full kit, just needs some grips. Worked last time I used it. $50
(EDIT: now missing the gasket for the solenoid, if I end up finding it I'll include it)
.
-E1.06 kit black. Complete! good condition, has all the parts, only thing missing is one single grip screw. $75 EDIT: I forgot to state that the cocking solenoid was leaking yesterday and probably just needs a cleaning and greasing.
-ccm silver on/off. normal wear and tear, some scratches. been sitting in my gearbag for almost a year. SOLD
Now the stickies and panels: PANELS are SOLD. *stickies fit .45 frames angel LCD one's are specific for angel LCD*
-green x8 (x2 Pending)
-blue SOLD
-black LCD angel x1 (x1 pending)
$10 shipped each! All NIB, never used!
-AIM eagle cocker body with sanchez dual rod pump kit, CP classic and ergo reg. Looking for $140 shipped or $180 with the eclipse frame on the orracle. The marker is in good condition few scratches on the body and just really needs to get the reg sweet spotted.
-I will take offers on just the eclipse frame though. EDIT: STICKIES ARE NOT INCLUDED WITH FRAME
-Price is OBO.
Now the best part. I now have a mystery box of some of the stuff I had for sale and then a ton of extra parts and some stickies! It's mostly cocker and universal gear all in working condition to my knowledge, some new some used. I'm really shorting myself here because I'm only asking $55 shipped OBO!
If you really want a picture of the box LMK.
This post has been edited by Chaos Fiend: 22 July 2009 - 08:41 AM