STARGATE 2015 Scenario Game (3rd Annual)
Saturday April 19, 2008
After saving the earth from the Gou'ald the Air Force must now defend the planet against the Replicators. The game is based off of the hit Sci Fi TV show Star Gate SG1.
Entry: $15 Per Player
FREE AIR
FREE RENTAL EQUIPMENT
Event Paint Only starting at $49.00/Case
We have a full pro-shop and will also have BBQ and other great things to eat.
Schdule:
10:00 AM: The Invasion
12:00 PM: Lunch
1:00 PM: Battle of the White House
3:00 PM: Final Battle
5:00 PM: Game Ends
Brought to you by: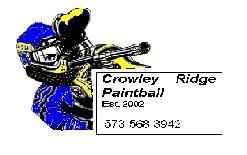 For more information call 573-568-3942 or email
crowleyridgepb@yahoo.com
. You can also visit
www.crpscenariogames.com