Yeah, so like the title says, I wanted to make my marker look less obvious when out in the woods.
I found that I would usually see my opponents marker first, then their body, since the guys I play with are always wearing full camo.
But, I had already purchased my black A-5...
I really liked the look of the camo a-5, but I didn't feel like messing with selling mine, ect.
So, I headed over to Bass pro shop. In their hunting area they have tons of different types of camo tape, for guns. I picked the realtree style, and then some soft camo tape for my hopper, and some camo leaves, to break it all up. (this stuff is available at most sporting goods stores)
Spent about 2 1/2 hours while watching tv with an exacto knife and presto, custom marker.
And it works great. Last time we played I was guarding the flag, crouched down beside a tree, and three guys started walking right toward me. I stayed perfectly still, and they were looking right at me, but didn't see me until the front guy was about 15 feet away!
You should have seen his eyes when he realized that he was staring into the business end of my A-5!
He got blasted, (and he was so close that I could actually watch the paintball break on him). I even got the guy behind him, but the third guy was able to dodge behind a tree.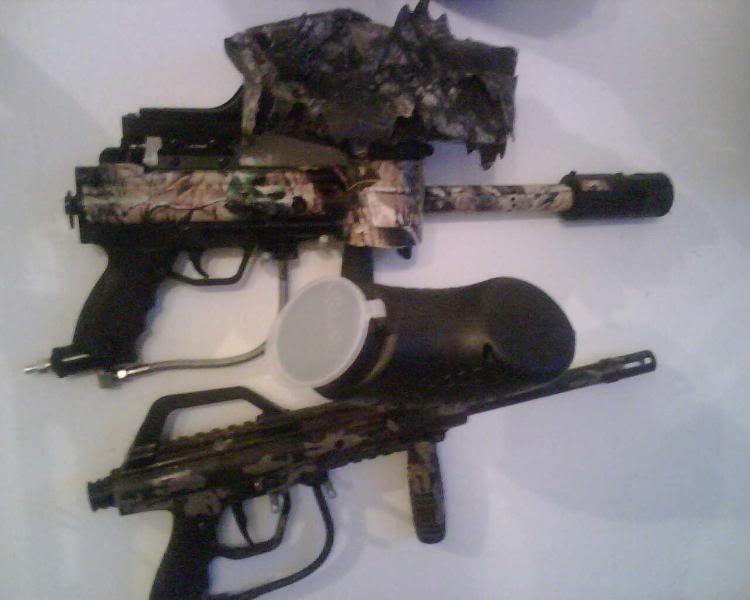 sorry about the cell phone picks, but you get the idea.