Hey guys
My brother-in-law and I have worked on developping a ONE PIECE FAN kit for any paintball mask to prevent fogging. We have tried it for weeks now and it is working awesome. We currently have v-force Profiler and they work great on them: no more fogging, less sweat !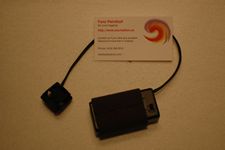 Our website is :
http://www.ezcreation.ca
If you guys are interested, we will deal locally : kit is $20CAD + shipping ($6 in GTA). If we are at PBN we can meet but can t promise anything. You can send money via Paypal so everything is cleared.
You can also email me:
ubedos@yahoo.com
We are not trying to make a living with Fanz but sharing our work. Design existed before, we just made it the easiest kit to install.
Enjoy