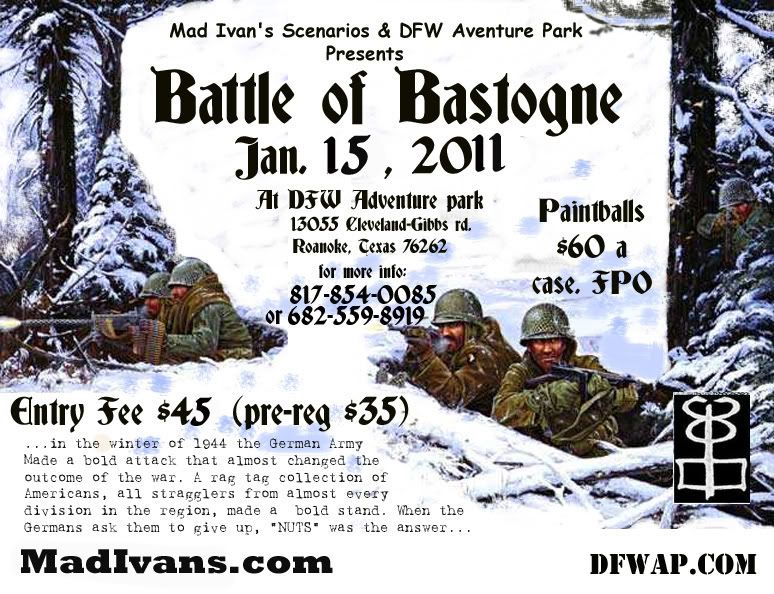 DFW Adventure Park & Mad Ivan's Scenarios Presents:
Battle of Bastogne '11
Paintball Scenario Event
Jan 15th, 2011
...
"This is the story of two small units during the Battle of the Bulge. On December 16, 1944, the German Army launched an offensive to push the Allied forces out of the forest of northern Europe and into the open farmlands of France. The little town of Longchamps is located just 5 kilometers outside of the famed town of Bastogne. The actions on the Longchamps road could determine if the little town of Bastogne will have enough time to put their defense together and hold out against the German onslaught. Air-drops are starting today, but those supplies will only go so far for the Allies to hold out. Now the race is on to lock down the Longchamps road and keep the supplies coming to the Allied forces."
This will be the 6th year of the Battle of Bastogne paintball scenario event. In past years we have had great turnouts and each year has had better game innovations. This year we will have personal missions for every player on the field. The game will employ several NPC's on the field wish game effect and some great new props. The scenario field at DFWAP has undergone a long list of improvements in the past 6 months as well. We have new additions to the main village and the secondary fields to the southwest. We will use the full 150 acres including the pond field and 'grande'.
Event Schedule:
07:00hrs – Site opens
09:30hrs – Ref & GM orientation speech
09:45hrs – Teams roll out
10:00hrs – Game starts
12:30hrs – Game break
14:00hrs – Game re-start
17:00hrs – final battle event location declared
17:30hrs – game ends
18:00hrs – Awards and final speeches.
We will have two grades of paintballs available for players. Both grades will be 'winter shelled' paintballs from KEE Action Sports!
This will be a field paint only event.
The price on the game is $45 per person or $35 if you pre-register.
Pre-registration dead line is Tues Jan 11th at midnight.
Price includes game badge, air/co2, camping, entry and a chance at prizes.
You can Pre-register by sending funds to madivanpb@aol.com by paypal or calling DFWAP at 817-854-0085 with a credit card.
For game info call Mad Ivan's at 682-559-8919
For Field or Camping info call DFWAP at 817-854-0085
Hope to see you at the game!!
Mad Ivan's Scenarios
Ft.Worth, Texas
madivans.com
dfwap.com
http://www.madivans....ming-events.php