Allright, try to bear with me here. I haven't keept a catalog of each setup I've gone through over the years, so instead just scrounging through old pics looking for them. They aren't all going to be all that good shots of the gun. I still have all the parts so I could just re-assemble each set up one by one and take good pics... but that would take ALLLLL day and then some and I don't care that much haha! So here we go, there's a story behind each part and each setup but I don't have the time to write it all down and you don't have the patience to read it so I'll stick to basic descriptions and you can ask questions if you care.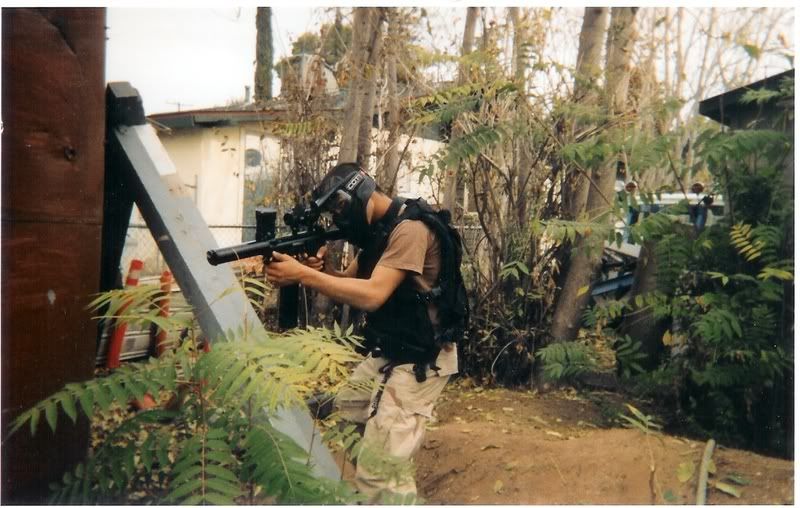 The first major setup. This was taken while I was on leave from the Navy in my backyard, probably around '04 or '05. I had only trained with rifles and pistols in the Navy so the stockless smg inspired design felt really akward to me. I was attempting to mimic the feel of the Mk18 (M4 variant) I had worked with here for comfort and function.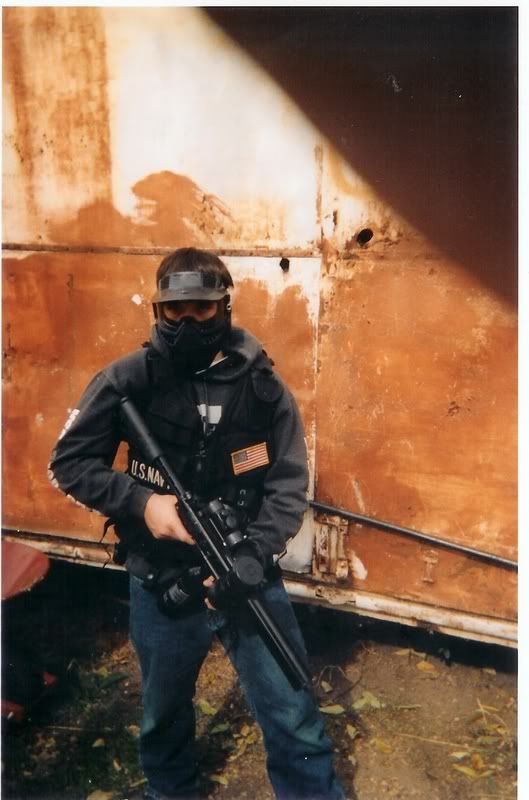 Here's my little cuz with the gun the same day. The setup: M4 style collapsible stock, carry handle, optic sight, vert air, 50 ball tac-cap and the Flatline barrel.
I still love this setup, although I haven't used it since, but I did find some issues with it and set out to resolve them with the next setup. First the mounting for the optic sight never worked quite right. The carry handle and sight weren't compatible, it took some moding in my ship's machine shop but I got it to work for the most part as you could see in the pics above. The second problem was that although the M4 stock did allow me to make the gun shorter for close up games in abandoned buildings, it really didn't make that much difference and it was still a really long gun overall. I wanted something even more manuverable.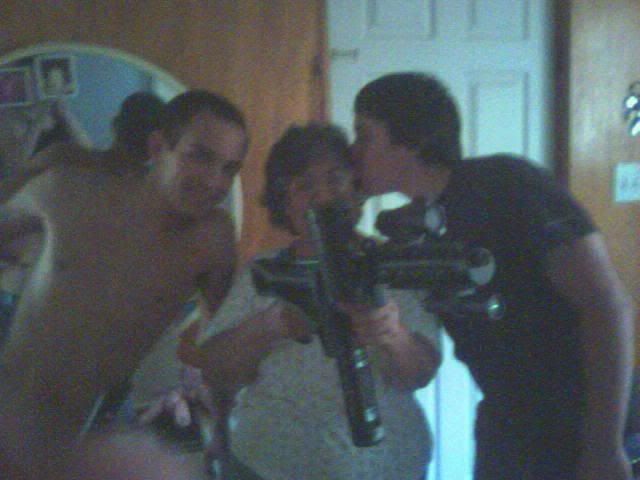 Anothere leave pic. Here's my Grandma posing with the gat! Me on the left my cousin on the right... Although this was never a permanent configuration for my gun I'll explain below.
By the next time I came home on leave, I had replaced the M4 collapsible stock with the G36 style folding stock. This allowed me to eliminate the length of the stock, not partially like the collapsible one, but completely by simpling folding the stock over. Again I was only used to working with things that had stocks, but for the purposes of close quarters paintballing I was willing to get used to it at this point. Also I had added an RIS handgaurd to the Flatline so I could mount a tac-light for night games, yes they do work for that but only if you know how to use them. To replace the haphazard modded carry handle mount for my optics, I had placed an order with SpecOps for a 45* offset weaver rail mount, but tragically it wasnt going to arrive at my command until a few days AFTER I went home on leave! Which was the only opportunity I'd have to paintball for at least six months to a year! So as soon as I got home I went to the local paintball shop to pick out a 45* offset. I figured when the one I ordered arrived I'd pick which one I like better and give the other to my cousin for his Tippmann 98. But they only had weaver to weaver 45* offsets at the shop. So I bought one anyway, and improvised by mounting my sight at the rear of the RIS handgaurd on my Flatline. That extra 45* came in handy later too, but that's another story.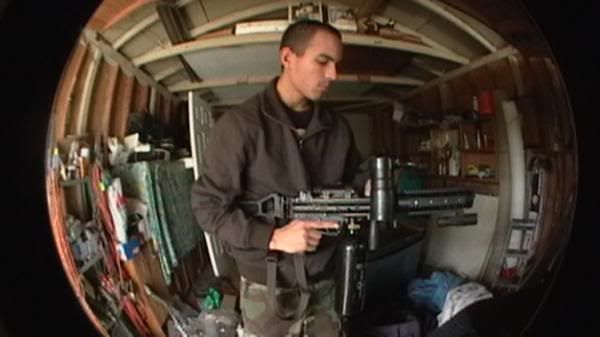 Ok so if that last one was a temporary setup until I got the rail hardware from SpecOps, this was the permanent setup that it became. Here I am at home on leave getting ready to test fire it in the garage. The only difference between this and the last pic is the mounting of the optic sight which I'll explain below as it's complicated.
But first here's a couple pics of me posing with it like a geek back at my apt in VA, where I was stationed.
Ok so this tragic mess is the end result of my optics mount "solution". I bought what was poorly advertised, described and depicted by SpecOps as a 45* offset weaver rail for a Tippmann A5. What I GOT was a 45* offset DOVETAIL rail with a weaver siderail for a Tippmann A5. Apearently someone at SpecOps hadn't been doing their homework, and they didn't take very good pictures of the thing so I couldn't tell. So the part I got could only mount my sight directly to the side of the gun, where I couldn't get my eye behind it. All I could do to improvise was attach the weaver to weaver 45* offset rail I had bought from the shop to the SpecOps weaver side rail, that got the sight up just barely high enough for me to use it, but it was still very akwardly hanging off the side of the gun. It ended up not being much better than the original carry handle mount, but at least with this everything bolted together properly so I stuck with it.
This was a great setup too, overall. But aside from the obvious problem with the optics mount, I did find a little more room for improvement. The G36 folding stock greatly reduced the overall length of the A-5, but with the flatline on there it was STILL pretty long. After a while I decided I wanted an even MORE compact marker for close quarters, which I was loving more and more every time I played. I don't have any clear pics of the next setup so bear with me here...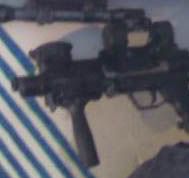 I know it's really small and not very clear but turns out this is the best pic I have of the next main setup. I went online found, ordered and replaced my flatline barrel with the Endgame 3" stub nose barrel! Only problem with that was there was nowhere to mount my flashlight on the stubnose! So I also bought a small rail block that bolts to the A-5 where the stock foregrip usually goes. Then I took the flashlight mounted it to the railblock on the body of the gun, and just like that I had a super cqb paintball gun and got to keep all my attachments! One more problem the stock foregrip for the A5 doesn't mount to a weaver rail, so I also bought a full lenght verticle foregrip that could go on the rail block. So I've got my sight, a better foregrip and my tac-light all monted to the body of the gun with the G36 stock and a 3" stubnose barrel! I this pic I croped out the stock because I had gotten bored of the G36 all the time and played like two games with the M4 stock on there, during which time this pic was taken. But the rest of the time it had the G36 stock on there and with it folded the gun was the size it is in this cropped image! It was tiny, and made the PERFECT cqb gun!
However it wasn't long before I realized how heinously short the range on the 3" barrel was! I needed better range, but loved my stubnose for cqpb (close quarters paintball). Behold the next evolution...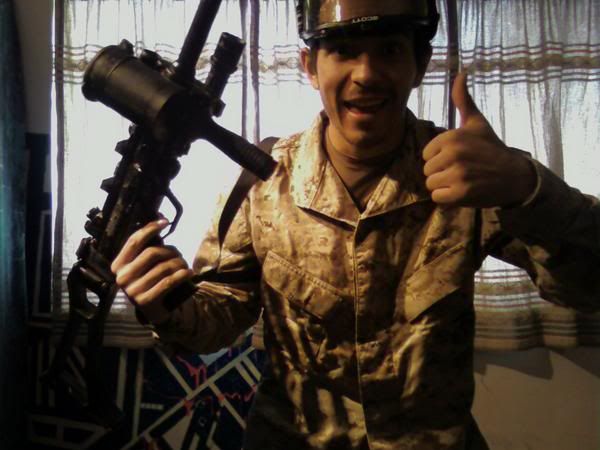 All I had to do was carry my stock barrel with me! Here I am posing like a total goofball again, exact same setup but with the stock A5 barrel on instead. So I carried my stock A5 barrel, and my stub nose in each game and switched back and forth as necessary! The A5 was almost the perfect, all purpose paintball gun! ...Almost.
So now what's wrong with it? Well, first off the optics mounting issue still hasn't been resolved, but we'll comeback to that. For now the problem I want to deal with is this: the threads on the A5 barrel are so fine and so many it takes about 20-30 seconds to switch between barrels! So I'm clearing an abandoned building, when I see an opposing player running through a field outside the window, I stop what I'm doing and start to switch barrels 'cause I know the stubnose doesn't have the range, and in the time it takes to do that he gets away! Then I have stop and switch back to stubnose and continue clearing the building, and I just held myself up 40seconds to a minute for no reason at all! That's no good! I spent alot of the time wondering if I was gonna get tagged out while switching barrels.
This post has been edited by Shipwreck!: 21 September 2010 - 02:29 PM