Well, since its a never ending topic, I have decided to put together some info regarding optics and paintball...
First off, allot of you may think, or have heard that optics are useless for paintball, due to short range, and generally low consistancy in comparison to real weapons...
However, I have played for a while now, and I will be the first to tell you that this is a bogus thought, and in no way is accurate to presume as "useless"...
As a matter of fact I cant count the times that it made that first shot count at unlikely distances...
With that being said, it would all be in vein if I didn't explain that there is a right and wrong way to mount optics...
I have seen countless marker setups with optics, only to find that they are installed with little thought, resulting in poor alignment, and causeing rumors from non-knowledgeable people, only to get the false idea that optics are only a
"bells and whistles device"...
I will conclude what I have found to be a correct setup for mounting later...
For now, I want to go over a few things that I feel is a "necessary knowledge", in helping you choose a optic thats right for your needs...
I'll start with>
EYE RELIEF
Eye relief is the distance behind the eyepiece lenses at which the image is in focus, and indicates how far the optics can be held from your eyes and still allow you to see the entire apparent field of view. In general, the longer the focal length of an eyepiece, the greater is the eye relief.
Long eye relief is especially necessary for eyeglass wearers,"i.e. - paintball goggles" because either of these increase the distance
between the lens and your eye. It would be safe to say for paintball in general, an unlimited eye relief is a great way to go!
~Here is a Diagram to look at~
PARALLAX
Parallax is the point of angle sustained while looking though the sight onto the target plain...
In other words, if a sight is parallax free, you could look though the sight at an angle not possible with a parallax dictated parameter.
In the diagram I drew, you can see at what axis parallax is measured... i.e. If you can continue to look though a sight at such an extreme angle that the reticle can no longer be seen, yet you can still see though the glass, then its a good bet your looking though a flat-plained HUD, AKA "Heads Up Display", styled optic. This is what is known as a parallax free system...
Here are two examples of "parallax free" sights>
Now, onto correct mounting solutions...
Take a marker with a stock for instance...
If you have ever played with a stock on your marker, you'll notice that it is hard to look down the iron sights, or much less get a good cheak weld, considering you are wearing a mask that prevents this sorta function...
With that being said, its common sense to mount an optic for paintball futher up, and back if a wider field of view is desired.
Top image is incorrect, while the bottom image is where you would get optimal results...
Now onto the distance...
Mounting an optic higher for paintball is just about always a good way to go...
If you notice in my second diagram below, you'll see how your point of view, and fight path can be considered when finding that right height... Paintballs simply dont go that far, but with a little common knowledge of these things, you'll be able to get a farther shot with more consistency if setup correctly...
(A) Shows a close mounted optic in drop effect... You'll notice that the drop point is considerably shorter with a low setup...
This is a good thing for up close, but for any ranged shot, it will make it harder to compensate this drop...
(
Now notice how the level fight path seems to lengthen out at distance with a raised optic...
It will shoot a bit high for a few good yards, but not enough that will make it really all that noticeable... However, it makes up for this by beeing more consistant with long shots that make the most of an optic to begin with...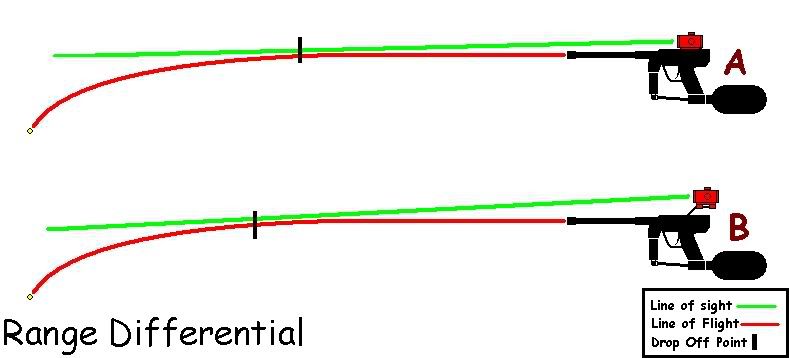 Here is a few examples of different types of optics, and their uses
Tube style "RED DOT"
Pros

> Cheap, easy to find, proven platform that simply works,unlimited eye relief, and can still be very visible in bright sun light, and can be found in a large variety of sizes.


Cons

> Not fully parallax free.
Parallax Free and Holographic styled "RED DOT"
Pros

> Parallax free, Very fast sight, most have reticle changing ability, and are already high mounted not requiring a tall riser in most cases


Cons

> Pricey, some not as tough as tubes, some report having trouble seeing the reticle in bright sun light, due to less shadowing.
2x power "RED DOT"
Pros

> Nice having a little magnification, unlimited eye relief.


Cons

> Limits close range effect slightly, and slightly higher cost than a quality 1x.
2x-4x and up Scopes
Pros

> Very cool looking, can use a ranged optic for scouting function, still functional on a lower power setting


Cons

> Anything over 2x-4x is pretty much useless for paintball ballistics, larger target, limited parallax and eye relief making it harder to quickly get on target, and not a both eyes open sight
Now onto types of risers
After you pick the optic that best suits your taste, you'll prolly need a riser to adapt it to the right height.
NOTE - Consider before buying an optic, that most sights are more commonly designed to accept weaver, and picatinny stlye rails...
A few can be found to accept a dove, but are not as common, nor proffered by most...
Picatinny
Weaver Styled Picatinny
Weaver - Notice how the spacing between grooves has been dictated. This is a true weaver.
Dove
Note - Common measurements in width are as follows per rail>
Dove - 3/8"
Picatinny/Weaver 7/8"
Standard Riser style
Cantilever Riser style
This post has been edited by WarCowboy: 11 September 2008 - 08:50 PM