Hello Special ops members, Forum lurkers, and Guests. My name is Austin. Today Iím going over the Airgun Design, Tac-One.
Before I start, I want to clear this up. Many people ask, "Which is better, the RT custom, or the Tac One?"
Both markers are 90% the same. The only difference is that the Tac One has a Mil-sim main body. Meaning it has rails and a short barrel shroud extending off the threads. While the RT has whatís known as the "ULE body (
U
ltra
L
ight
E
ngineering) body. Which is smaller and lighter, but does not have the rails attached to the main body.
Also, when any automag has a Tac One main body it becomes a " __-Tac" for example, the "E-Mag" with a Tac One body becomes a "E-Tac"
I have owned this specific Automag for over one year, that's one full year of use indoor and outdoor.
_____________________________
On to the good stuff, AGD was never known to have a fancy box for their markers, in fact many people rose questions to why they had the plain box instead of an artistic design on it like all the other boxes, Tom Kaye replied "Simple. It saves money. Which means we get to sell you higher quality markers, for less then everyone else? Because we donít want to spend 25$ on every box just so you can hide it in the closet of your room."
EDIT: Apparently they did have fancy boxes. Apparently when they heard it was being shipped to me, they found a plain white box.
Wonderful. (Although the plain white box lasted for quite some time apparently. learned this while searching tom kaye's posts on AO forums)
So when your plain white box arrived at my door there was only one thing printed on the side.
Under your bar code is your Markers Valve number. This means I own the 8201
th
Tac One.
This number is also printed directly on your X-valve. Twice, once on the regulator and once on the Valve itself.
Upon Opening the Box you will find a few things:
1. The AGD Tac One.
2. The J&J ceramic Two piece barrel (12'' long - 0.690 bore)
3. The Basic Manuel
4. Input Pressure Graphs
5. Your Official forum membership card to Automags Online forums
6. AGD Auto lube
7. AGD stickers and an iron on patch.
8. Spare Parts for the Xvalve (shim's and Three Carriers plus O-rings
9. A DVD of how to set-up your Level Ten system and the X-valve. (already factory done, but watch it and learn)
10. If you spend the money, you will also receive Extra parts for your X-valve. (O-rings and spare shims) ( I suggest you spend the extra money.)
First I am going over the marker itself.
The Tac One is a mil-sim version of the RT custom. It has three rails, two 45 degree rails on each side of the marker and one flat rail in front of the feed neck, So itís good for lasers or flashlights. Although if you choose to get a left or right feed main body then you can use the center rail for a sight of some form. The marker is rather hefty compared to the space age markers of today, although do remember that the whole marker is milled aluminium and the valve is pure stainless steel, so itís not exactly the lightest materials. The automag consists of four basic parts,
The Main body -this houses the valve, feed neck and the barrel.
The Valve - The valve is your most expensive part, the X-valve alone is nearly half the price of the whole marker.
The Rail - this is a spacer between the main body and the frame, it spaces them out for the sear to work correctly. it also pins down your Valve to the frame.
The Frame - the frame holds the sear and the trigger.
The Tac - One comes with the intelliframe. This is out-dated, but still works wonderful. You can electronically wire it to your hopper, so every time you pull the trigger, the hopper feeds automatically. This ensures that you Always have a paintball in your breach at all times. Unfortunately due to the new hoppers this feature is not a *must have* you can run it without fancy wires and what-not to your hopper. I personally just use my Halo on top and it works great.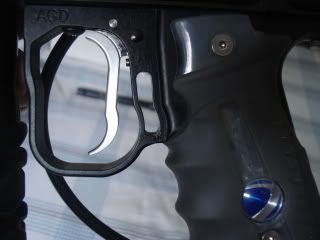 Next is the Feed neck.
The feed neck is angle threaded, and lock-tighted in. so youíre going to need some force to unscrew it out.
This feed neck is one of the few items on this marker you may want to replace early. I have not replaced it, instead I sanded down my Halo and grip taped it. ghetto luscious, I know. I need a clamping feed neck lol.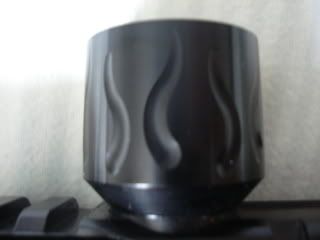 The Detent is also Angle threaded. there is only one detent, although I still have not needed to replace it. And I have never had a problem double feeding so I am quite happy with the detent. As you can see on the second picture the detent (white ball) is still round.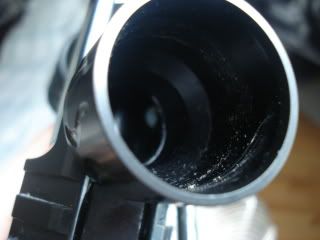 The marker is held together by Two screws. One is the big silver "field Strip Screw" this screw secures your X-valve to the markers Frame, this way you only need to remove one screw to remove your valve for cleaning. This design on the automag is 20 years old, but it still works just as fast as the new 2010 markers.
The second screw is right beside the trigger, once you loosen it you can use your fingers to get it out. Then you can remove the Main body, the rail will come right off. Then you have your three pieces to your marker.
When you receive your marker,
it will not
have a ASA. This means you need to get one. and screw it into the grip-frame.
you have two choices.
1. Run the line from the ASA directly into your valve.
2. Make a square pattern. then run it into your valve.
As you can see I have made the "backwards C" shape. Although by using the gas through grip you can make a Box shaped pattern.
Once you have the marker itself in your hands youíre almost instinctively going to reach for the barrel.
The J&J ceramic barrel is Autococker threaded, defiantly one of the best stock barrels to come with a marker. I have used to time and time again without problems. itís really light and has a great option to go with the 6 inch front piece for a louder approach to your opponents.
The next part is more of a warning if you plan on buying aftermarket Barrels. Here I have wrapped a small piece of tape around the visible part of the barrel when it is fully screwed into the marker.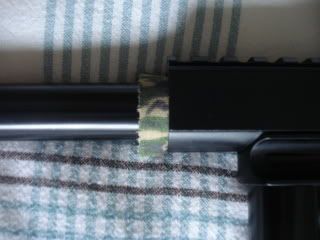 The next picture shows the barrel taken out and aligned with the body, To show you how deep the threads are inside the body. This means that barrels with small control bores such as the Hammer Head "fins" can get stuck inside the marker. So if you plan on buying a barrel kit with control backs, which are relativity small.
Make sure they are reverse threaded.
This means that you turn "Righty tighty" to tighten the
back
to the marker, and Righty Loosy remove only the
barrel.
So the back never gets stuck inside the shroud.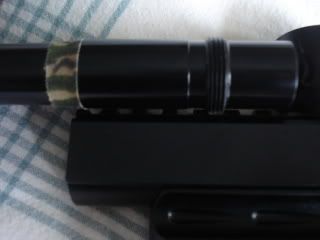 The Manuel has the AGD contact information should you need it for any questions, it also has the proper way to chronograph your marker. which is very important when you own a X-valved Automag. The proper way to chrono an automag with the X-valve is:
1. Fire your first shot and hold down your trigger, Your first shot should not be counted.
2. While holding down the trigger, Release and shoot the marker as fast as you can.
3. Hold the trigger, record your velocity and repeat until the desired velocity is reached.
The reason you hold down the trigger is because you want to fill the air chamber and cycle that same air as fast as possible,
When air rushes into the chamber it is hot, so your velocity is increased. which is why you want to shoot it when the velocity will peak. So, when you increase your rate of fire it wont exceed the Fields Limit. If you fail to do this then when you start shooting at high rates of fire, you may be shooting 10FPS OVER the fields limit. A good guarantee to give you a one way ticket back home.
The most Useful piece of information to you will come in the form of Three graphs.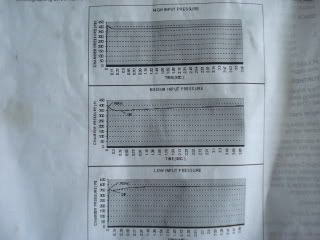 These graphs are detailed explanationís about how to set-up your marker's input pressure to what you play style is. Because the X-valve has very awesome qualities to it. It also has very different effects when you change from 850PSI to 1000PSI of input pressure.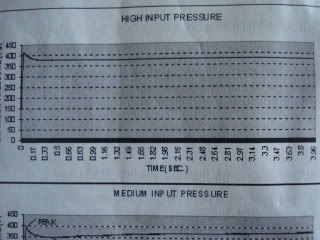 Colour key:
Red
is when you wait for a few seconds in between shots.
Blue
is when you are increasing your rate of fire.
Black is a constant rate of fire.
For high input pressure: When firing at a rate of 2 shots per second or slower the X-valve will maintain constant velocities. When shooting at rates of 3 shots per second or more, the X-valve will record velocities closer to your maximum fire rate.
This means that when you take your time, each shot will be consistent, But when you increase your rate of fire the velocity increases also.
Example of FPS: target velocity
280
265......265...268
,
273,278,282
,281,279,278,280,279
For Medium pressure input: when you shoot and then wait 10 seconds the velocities will be the same as your maximum rate of fire. Although when increasing your rate of fire the velocity will drop, and then raise until you reach you maximum rate of fire velocity.
This is great for rapid firing, because your first shot will land at your maximum rate of fire.
Example of FPS: Target velocity 280.
278......279..276
,
267,269,273,275,279
,281,278,280
Low input pressure: your first shot will be the highest velocity, any proceeding shots without waiting will be lower.
This works well for players who want to pick their shots. this reacts more like a regular paintball marker, the faster you shoot the lower your velocity.
although the Drop is not much, it is still somewhat significant on the chronograph.
Example of FPS; Target velocity 280
279....278..277
,
276,2,75,273,271
,269,270,271,269
Should you have any questions that you are really stumped about, and you are to scared to talk to the REALLY nice people on the phone,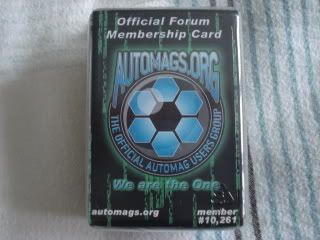 Remember that you are a official member of Automags Online. a forum just like this, with thousands of pages of information about your automag.
You will also receive a small box with two springs and Spare parts for your Level Ten system. (Anti-chop system)
Here is a picture of the smallest spring, the gold spring. Which is recommended for indoor play. (Velocities of 250 and under.)
It is shown where the spring is located in regards to the inside of your marker.
You have three springs.
Gold - 250 and under.
Red - 260 to 280.
Silver - 280 and upwards.
AGD has been playing around with the springs, only recently have they added a real middle spring, before it was simply a cut Silver spring (so it would act like the middle spring)
point goes to
Enhander
for reminding me this, should you buy used. make sure to ask the owner what spring is which as they have toyed with the colours and the springs themselves over a few years. so if your like
Enhander
this may seem more like your set-up:
Quote
The Gold spring is actually the middle spring. Silver, Gold, Red.
You should switch to the spring that is closest to your fields velocity limit. Because if you use the gold spring at 280 FPS sometimes the spring will not fully return the bolt to the marker, This means a bad case of the bolt stick. which means you cannot fire anymore. likewise, if you use the spring that is to stiff, you may not have enough force to shoot it. So if I need to shoot at 250FPS and I put the silver spring in, when I lower the Velocity to shoot at 250FPS the marker wont fire, Because you need to be shooting at least 270 for the marker to operate with the silver spring.
The box also contains Auto lube. This is a automags best friend. The only problem is that you may want to have a Spare Friend because Automags LOVE oil. Simple bolt stick issues or velocity jumps can be explained by the absence of oil. There is no such thing as flooding an Automag. (Of course donít actually flood your valve system with oil!)
And as for velocities and accuracy:
The velocities depend on your input pressure and your experience with the marker.
At the field yesterday (Sunday july 26
th
) With my input pressure just right I Achieved these numbers.
265, 269,
273, 279, 276, 281, 279
, 278, 279, 277, 280, 281, 279,
The blue is my first shots at lower speeds ( say 2 or 3 seconds apart.)
The red is when I started in increase my Cycling Rate,
The black represents a continuous cycling period.
(I had two guys yell out numbers to make sure they were right, just for you guys
)
With the X-valve (once again depending on input pressure) when you increase your CPS (Cycles per second) you heat up the chamber on the inside. This in turn increases your velocity,
So when I space my shots out. I can look at velocities around 265. for one shot at a time.
But when I increase my Rate of fire the velocity increased to around 280 (fields limit and it was quite consistent the faster I cycled the marker.)
at the lowest of 278 and highest of 281, that means I am looking at a Plus minus of 2. which is awesome! and if I increased the rate further it would become even more consistent. (but I wouldn't be able to read it lol.)
The efficiency of this marker is not setting any new milestones.
The marker itself is efficient, Although because they run off such high pressure inputs rather then most markers, when your tank hits 1000PSI, Your done. So on a 68/4500 Fill I can reach roughly 1100 shots with my barrel. on a 68/3000 fill I'm running around 800 shots. Should someone conceive a automag with the ability to dip into that 1000PSI range, for a spool valve operation, it wouldnít be to bad.
So, grab your gear and become A Monster on the field.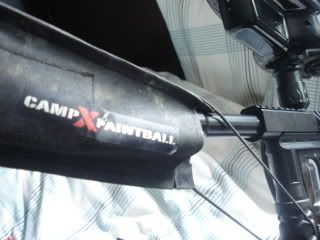 _______________
Here are questions regarding this thread, i'll bold the poster and quote his question while doing my best to answer, unfortunatly I am no Automag guru.
Posted by
W00DSBALL 5N1P3R
:
Quote
Do you have the ULE Trigger Kit?And if so, how fast can you get it? Also, how fast can you get it with the stock trigger.
I do own the ULT trigger myself. It is an amazing addition to any automag, It can change the way your trigger reacts completely. The Ultra Light Trigger kit replaces your stock On/Off pin,
The ULT is basically a non reactive pin, meaning you will eliminate any bounce you normally get from your Automag, and becuase of a much smaller and lighter pin, it reduces the amount of force you need to activate the sear.
Should you decide to purchuse an Automag, definatly go for the ULT. Although, I think you would be better off having the ULT not installed by the factory. Instead you must do it yourself. This helps becuase it teaches you about what you have, plus if something goes wrong you already know what the problem is.
The pin is NOT covered by any warrenty, so be very careful. It you bend it your pretty much screwed.
The little silver rings around the bottum are called "shims" you add or subtrack these to get the desired ULT tune perfect. Normally you start with two shims and work your way up untill the automag double or autofires with one pull of the trigger, Then remove shims untill you get the one shot per trigger pull. This ensures you have the lightest trigger pull.
As for trigger speeds. With a stock trigger I usually sit around 5 to 7 BPS. Although I have never ventured far into the reactive triggers effects, Many people can sweet-spot the stock RT pin ( replaced by the ULT pin. as stated above) anywhere from 15 to 34.5 BPS ( achieved by a Crazy automaggot. its on you tube) With the ULT I can sit anywhere in the 10 BPS rate. usually I only shoot in short bursts. never long constant ropes.
One note about the ULT. Short stroking is a common effect of an incomplete trigger pull. Although you are essentially tapping the trigger as compared to pulling it with the RT pin. Should you "half tap" it, a paintball will simply roll our your barrel, its a learning experiance with the ULT.
SOLIDUS SNAKE
posted:
Quote
If you order a RT ULE custom will it come with a rail over the valve and have a large space between the foregrip and trigger. Or does it come with the more "modern" look with no rail or space between the foregrip. Hope this wasnt a stupid question.
Alright first there is no such thing as stupid questions, only stupid people.( Hey! wait a minute! thats not right.
)
If you ordered a AGD RT ULE Custom it will be a more modern look, It will not have the rail over the mainbody, And it will not have a big gap between the intelliframe and the Gas through grip. The marker will have the same parts as the Tac One, only it will have a mainbody without rails.
If you really want the old-school look to it. phone AGD and ask them if they have any spare parts floating around. (such as that rail for the mainbody)
This post has been edited by Eskimo: 11 August 2009 - 11:41 AM