RAZA Life Jersey Review:
http://www.razalife.com/paintball/
I first read about RAZA Life paintball at this review link on MCB:
http://www.mcarterbr...rsey-order.html
Now I'm someone who doesn't really fall for paintball hype on new equipment or a clothing line. After reading the review I seemed comfortable with calling the company.
First a little back tracking history:
How this all started was that I donot like to advertise for a company I have no affiliation with,that's something the AGG players and follower players are for. They just have to have that new company jersey with that company
LOGO PLASTERED ON THE FRONT
. Well that's not me and never will be.
I do own an Animal Paintball Jersey,but never had my name or number put on it,because they looked cheap with iron lettering and numbering. The logo was hardly noticeable and that's what I liked. It was just a visual for the company and if people asked where I bought it,I told them. Plus it fit my personality.
They offered what other companies did not,hidden logo and something that was tailored for me. That was a few yrs ago.
Flash Forward:
Enter RAZA Life. Wild designs and tailored to the player who wanted something personalized and exactly what they paid for.
So while in Japan and after reading the review,I take the chance and call. I speak with Mike. Asked him about the pre made shirt I wanted and if he could do a few alterations. Not a big request,just a personal touch.
His answer was
"yes we can do that".
So now I'm comfortable with this company,I get a
"YES"
to a request,when other companies would have said
"NO"
, or charge me an outragious price for modifications.
Once again,I'm not a LOGO man and that was what I wanted eliminated, the word
"RAZA" on the head band of the skull.
Mike agreed with me. He believes you should have what you want. However My Jersey still has the company logo,which doesn't bother me. Reason being,because it is a very
Professional Sports Jersey LOGO patch
and tackfully placed at the lower left part of the Jersey.
Okay I lied,there are a few more logos but I didn't notice them till tonight: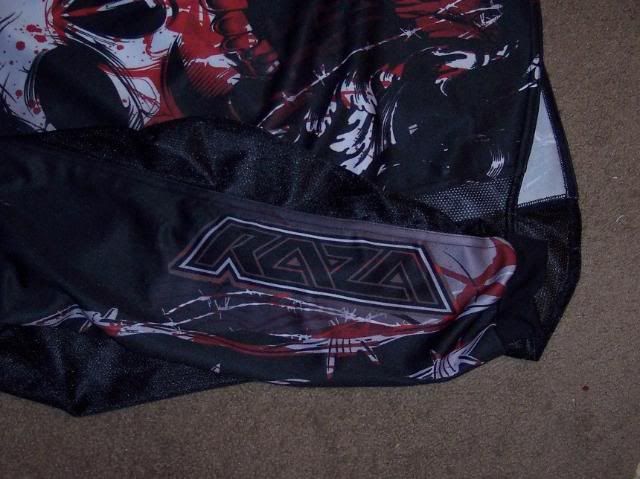 So he gives me the estimated time it will take for the jersey to be ready to ship.
(I won't mention that time limit,because if they ever have equipment trouble and can't make the dead line then someone will refer back to this review. So get the time line from RAZA.)
So I pick my size. Big mistake. I knew I should have gotten the
3X
and not the
2X
. It fits very well,but I just wanted a little more room. Good thing I lost a few pounds while in Japan.
Even though I picked the
3X
I called after I paid and changed it to a
2X
. No problem there,just an email reminder to Mike after talking with him. Problem solved.
So while I think I'm going to be in Japan longer,I get my email saying the jersey is shipped. Now I'm pissed,another month till I see it. Next day get orders to head home,now I'm happy!!!!
I arrived home one day before the jersey. Package shows up the next day.
I'm impressed
!!!!
The lettering
"BLACK RAIN"
looked like it belonged on the shirt. It didn't have that
TACKY/RUBBERY IRON ON LOOK
. Lazer printing is awsome.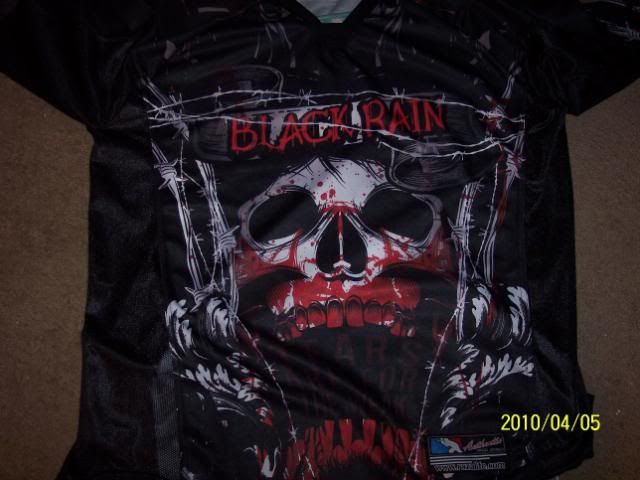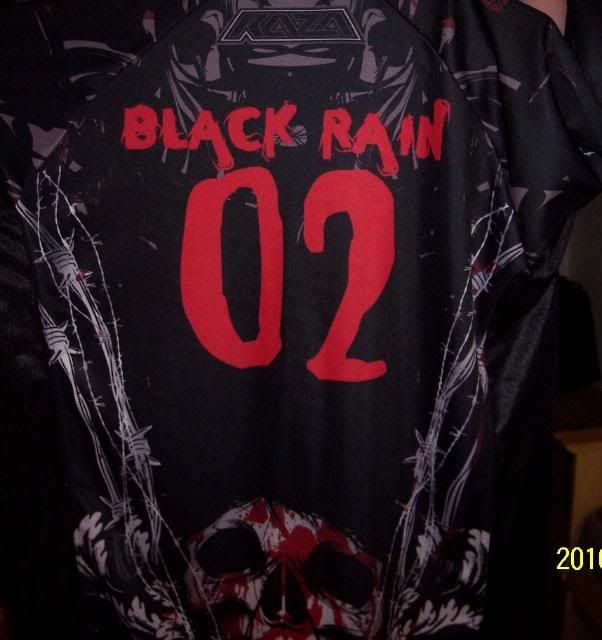 The fabric was very lite and mesh vented on the side for a nice air way passage. This is good,my FAT A$$ sweats alot. I need to keep cool.
The fit was perfect,only I wish I would have bought the 3X,just for extra room. Guess I'll have to stay trim :ROTFL: . The sleeves fit excellent,not baggy or to long, just right.
I'm a stickler for sewn goods,I guess because I sew and I do alot of projects on the sewing machine with my Mom. So I decided to check out the inside of the shirt.
My Impression is this:
Whoever does the sewing and serging at RAZA Life,give them a raise and don't let them quite!!!!!!!!!
It was perfection. I didnot find a missurged area, a loose thread or any trailer strings that could get snagged or pulled and unravel the sewing. I have had jerseys in the past that had these type of defects which caused (RE) sewing on my part.
This is the very reason I began making my own. Well I guess I'll just stick with RAZA Life if this is the type of service I will always receive with any order I make.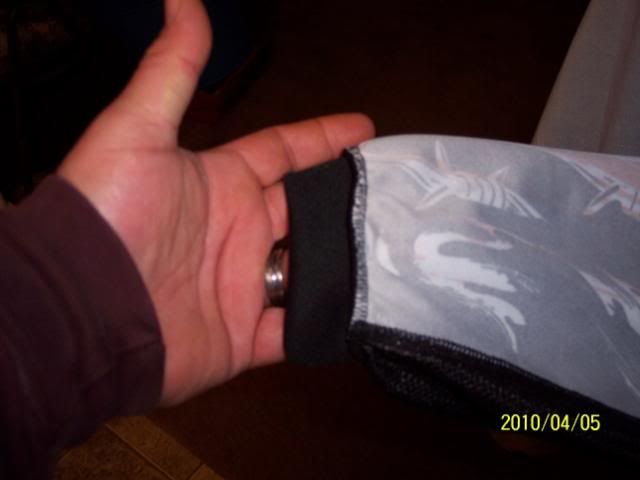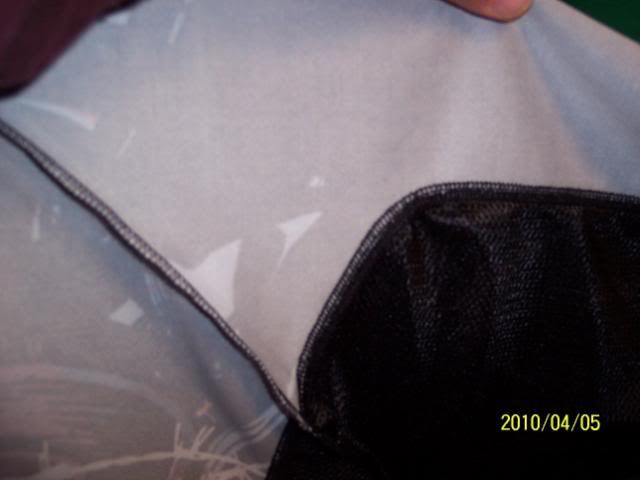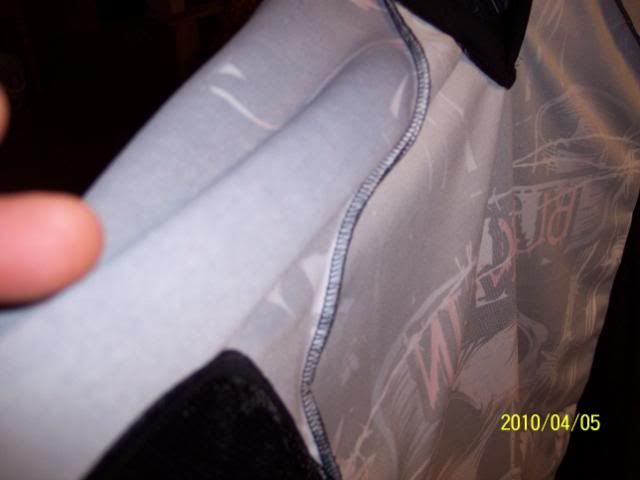 Over all fit was excellent:
I was very impressed with the V Neck. Not tight,just snug and I have a 18-19 inch neck. So comfort is important to me.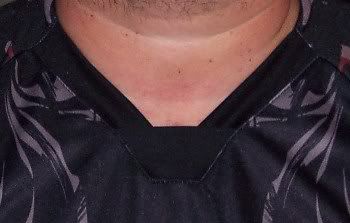 My overal impression of this company is something I have not seen in paintball in a long time.
ONE on ONE CUSTOMER SERVICE
is excellent in all ways from discussing the design to final product.
I hate talking to an answering machine. That is what has stopped me from buying alot of items over my 22 yr paintball career. Talking to a person makes a sale so much better.
What I liked most about the service was the front lettering on my shirt. I wasn't sure what type lettering I wanted,and I just told Mike," Just do whatever makes the lettering look like it belongs". That's exactly what he did and I was satisfied 100%
I do plan on buying another. Once I learn how to do picture formating, I'll design my own. For now my next purchase will be my sponsor banner.
So if your looking for a custom jersey or a pre made jersey that you could personalize,I would contact Raza Life for your needs or your team needs.
Later,
Blackrain:drool: