Previously I was using a Tippmann 98 Custom ACT with Apex Barrel, Carbine Stock, etc. I believe my signature still has a picture of the completed set-up. It still works just as well as the day I brought it home from the store, I just felt I had outgrown it and needed something with a little more power and much more intimidation… and the 98 Custom Base didn't give me that feeling, although people were terrified of it at times...
Alright, so I got the X7 on March 6th, 2007, and instantly dropped everything (Two essays I was working on for AP English) to bring it out and test it. Grabbing some marker oil, the first thing I did was pour some oil into it, as I was unsure of whether it was pre-oiled or not, and gassed it up via a 20 oz CO2 Tank, forgoing my remote line for now. Lining up my targets I was able to consistently hit my target at 80 feet using a minimum of 5 shots at the very most, this is with the stock barrel mind you, any further than 80 Feet and the shots would drop off.
I got an excellent feeling from the marker when it was cycling; the 98 Custom has a top-heavy feeling to it with the hopper sticking out, and is moving bolt is louder than a fireworks display on the Forth of July, the X7, although not too much quieter has a cover over the bolt much like the A5 which keeps dirt out and makes cocking the marker easier. The Clip is an excellent feature, as my fields let us bring tools for scenario games if we need to make repairs. It also doesn't float around as much as the 98 Custom wanted to, the 98C would jump around if I wasn't using my stock and that would require me to put extra work into keeping it on target.
Right out of the box it had been set to the perfect chronograph speed, our field has a 300 FPS limit, and my X7 chronographed between 275 and 295 at its highest consistently, and I have yet to fiddle with the velocity settings. The Cyclone however, doesn't like low CO2 tanks or HPA Tanks that are at the end of their charge, I was able to overcome this by manually cycling for the rest of a game and then refilling when it ended. Considering I don't shoot that much in the first place it's not a problem. Just as a side note, as of my last game with it, I have yet to have a single chop.
Intimidation is a big part of my game-plan. Psych-Tactics are just as important as anything else, if I can get into someone's head I will. And the X7 itself is the most intimidating thing on the market. The Twin-Tippmann A5 Double Troubles sometimes come off as a little ridiculous to older players, but the X7 is a stylish and powerful looking marker. Its also not as heavy as it looks, especially with my remote line, it's a very comfortable weight and is balanced right in front of the trigger, which makes it easy on the arms and hands.
The hopper is something Speedballers and Woodsballers alike admire. The Speedballers all wish for something similar and the Woodsballers love the low profile. It feeds as fast as I want it to, and since my fields have all day air I don't need to worry about keeping my tanks full. The whole concept of the cyclone feed makes the Tippmann line of markers so awesome, and the X7 Cyclone is no exception. My only problem with the hopper is that the balls sometimes get caught up front and you need to shake it a little, but it's not a bad tradeoff considering I have yet to have a hopper hit.
I upgraded from the stock barrel to the A5/X7 Threaded Apex, best upgrade so far, it really has brought the performance to a whole new level. I was very familiar with the Apex system, as my 98 Custom was equipped with one, so this merely brought the marker to an even closer sense of familiarity. I also outfitted it with my Red-Dot sight and a sling. Although the oddest upgrade (And possible one of the rarest in paintball) was the creation of a gun-cam mount on the left side rail of the marker, which allows me to film while engaged. I haven't yet been able to do this during an actual game as the camera I'm using is sensitive to water and humidity, but when it gets drier outside I'll be posting some videos.
Future Upgrades for this set-up are the X36 Folding Stock, X36 Handle/Scope Riser, a Vertical Grip and an E-Grip or Response Trigger.
A Breakdown:
Pros:
Intimidating
Cyclone EP
Rail Systems
Consistent
Tool Clip
Hyper-Upgradeable
Tippmann threw in a X-Tra large barrel condom which fits Apex and Flatline systems.
Cons:
Cyclone ceases to function if its low on Air/CO2
Shrouds require a certain length of barrel.
If you don't make sure the clip is in all the way it can fall out. "Hear the snap or get a map" was a great saying we came up with when talking about the clip, as if you don't hear it snap into place, you're going to need a map to go out and find it.
The grip has a bit of excess plastic where it was molded and this is kind of sharp, I plan on sanding it down in a little while as after 10 hours of playing it can really leave some nasty scrapes.
Performance Out of the Box: 9/10 – Excellent, but it gets points off as the stock barrel could be better, and the rear sight section is kind of pointless.
Looks/Intimidation: 10/10 – Perfect, I haven't seen any other marker ever that can come stock out of the box and look so good.
Upgradeability: 10/10 – Perfect, Is there anything else on the market with this much potential? Possibly, but once the third party upgrades hit the market this thing is going to really take off.
Feeling: 8/10 – Good, it has a few cons, the actual holding of the marker takes some getting used to, and the trigger pull is kind of heavy, but it does feel good in the hands, although the grip should have been rubber or something that doesn't slip on sweat. No issues with that yet but I worry.
Uniqueness: 10/10 – Perfect, I don't mind them being Tippmanns, I think Tippmann makes excellent markers, but having a marker no one else on the field currently has is a great feeling. It has the ability to look like so much, and is the perfect scenario marker.
Grand Score: 9.5/10
A phenomenal marker with a great customer support to back it up, Keep it oiled and maintained and you won't need it, otherwise you have a safety net. No issues at all, and the first month is normally when they pop up. Waiting on the folding Stock, and some other bits and bobs, and then it'll be complete. Only real problem is the fact that the E-Grip isn't out yet, although supposedly the Response kit for the X7 is smooth as anything else… If you want an excellent performing marker with looks to kill, go with the X7. If you are shorter on cash but want similar performance, go with an A5.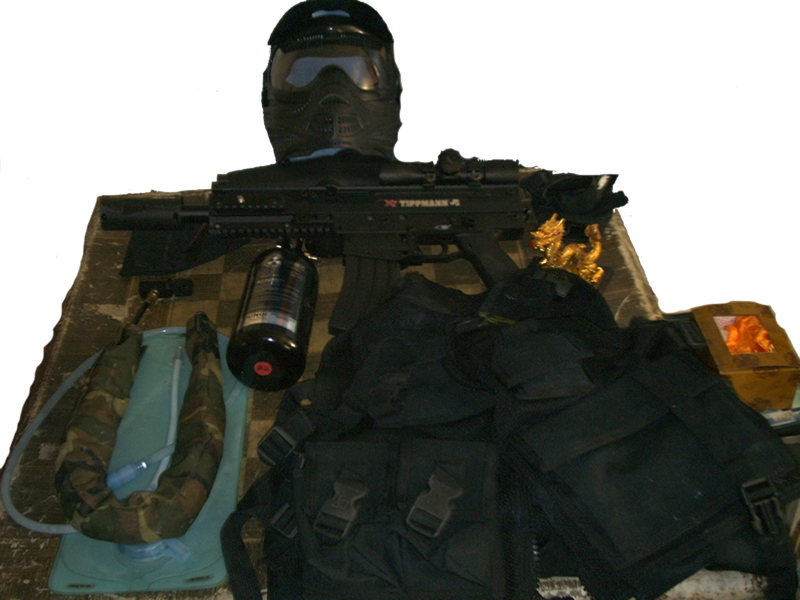 This post has been edited by Siesatia: 18 April 2007 - 03:53 PM