Ok, So over the last two weekends I have been testing and firing these rounds from a TM 15, muzzle-loaded into a 16" Cp .689 one piece on HPA with a Killjoy APR and 4x32 Crossbow scope sighted in at 150 feet. Bench mounted on sandbags at a distance of 150 feet and chronoed to 270 with plain field paint. I did not chrono the marker with FS rounds and fin rounds. That will be next weekend.
I didnt test the Lapco rifled FS barrel because I don't have one. I'd love to test it. I do not owe any company any loyalty. I'm simply looking for the very best sniper equiptment.
I believe in training as I fight, that means testing in the wind I can't eliminate under the conditions I have to play in.
Rounds used were TA First Strike and TAG Field paint with the fins as well as some OLD Marbs with the fins
These are last weekends results, the better test pics will be up[/B]
However, intial tests last weekend gave us the following groups
As you can see, 2 of the 5 fin stabilized rounds went left of the board, but overall this procaps field paint had a tighter pattern than fin stabilized marbs
and the FS have a decidedly flatter trajectory and are much less affected by wind. Slightly tighter group with FS. 5 rounds fired. Both rounds had one flyer above the board
The test range we fire along a hill so as to eliminate some of the Hollister CA wind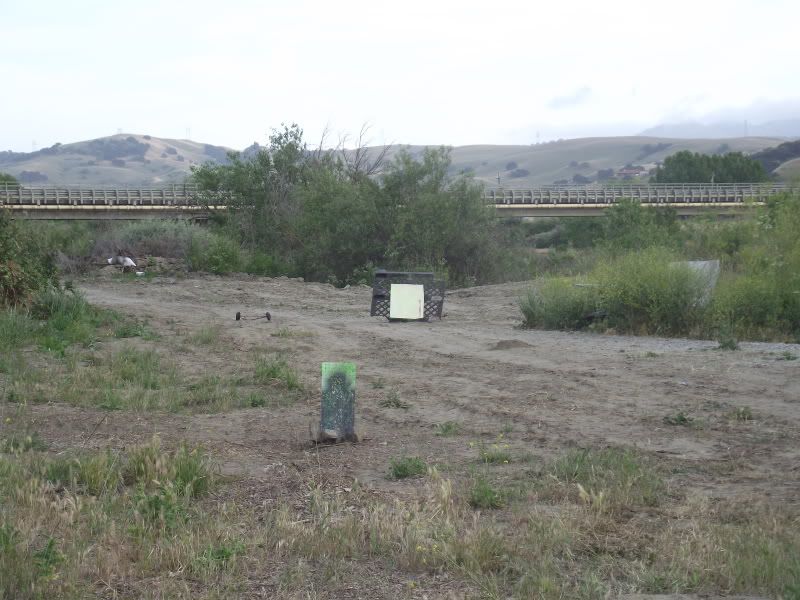 Photos of the test area, and yesterday's more extensive test will be up tomorrow in the AM.
Let me say that initial tests confirm the following:
-The fins are reusable (I recovered 3 out of every 5) with a couple cracking/splitting upon impact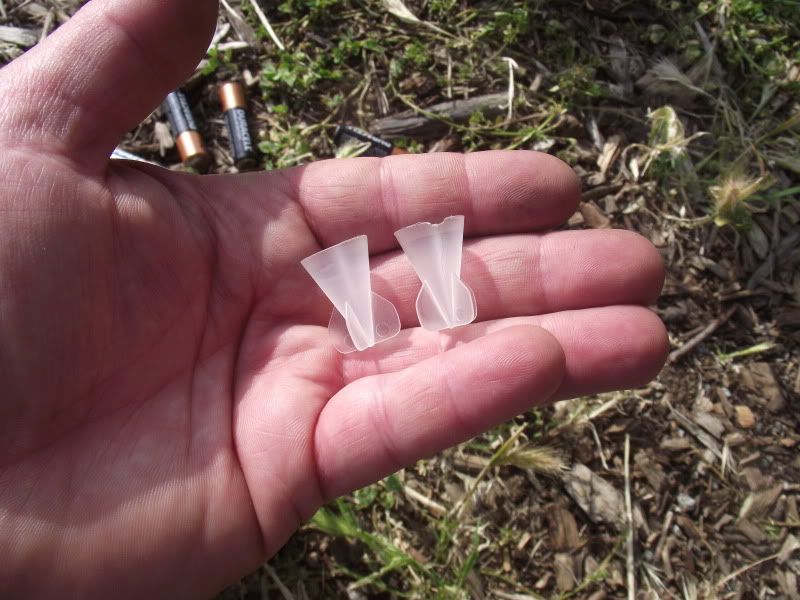 -The fin stabilized rounds are decidedly more affected by crosswind. You will notice the "lob" more than FS rounds. In wind FS are just a touch more accurate
-The fins are MUCH cheaper, and hell, reusable.
-Fields are much more likely to allow the fin stabilized rounds, as it's their paint
-You need to sit down the night before with a C clamp, superglue, and field paint and make these rounds slowly and deliberately before you get to the field
-The flatter trajectory and slightly tighter group of FS rounds, but mainly the trajectory will be an asset in bushball
-You will need an adjustable barrel system to keep muzzled loaded fin rounds
from sliding out
-Unlike FS, fin stabilized rounds cant be breech loaded in any gun I have
Overall, for cost effective the fin stabilized rounds win out. I imagine the group with FS will only get tighter with the Lapco rifled barrel. If you are playing with out wind, I vote for the fin rounds. I plan on using fresh premium paint with the fins in the future.
Last but not least, to save you all some paint, if you are shooting something akin to a tm15, at or near 270 FPS, with a barrel similar to a 16" .689 CP, then the following measurements will help you. Remember to use regular paint to get the windage set on your aiming device.
-Looking at the back of the Killjoy APR, when you see the second line you are in the 150 feet neighborhood for first strike rounds. For fin stabilized rounds using paint that measures about .684, that is the third line I see from directly behind the APR.
Last weekend's results
Here you have the first strike spread. You can see the sixth round on the botom right, under the pie pan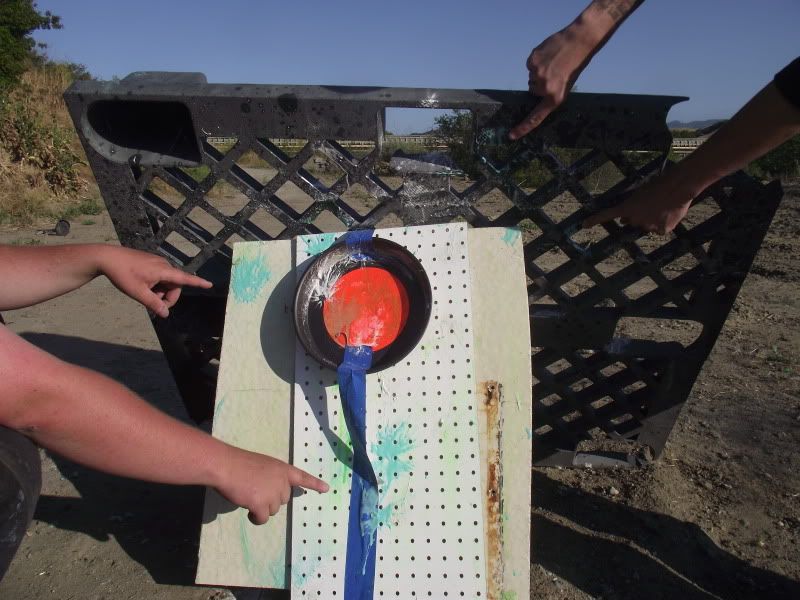 and here the TAG field paint (Procaps rec or something) with fins spread. You can count six rounds because there are two at the bottom. I will say this;
In little to no wind, these rounds, despite the less flat trajectory, these rounds were dead on. As accurate as the FS. At least out to '150.
The test rifle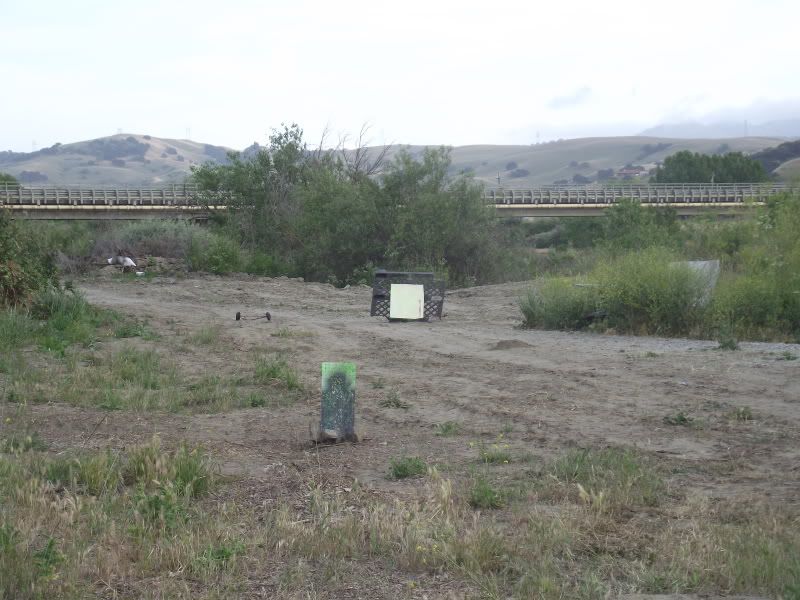 Testing grounds
This post has been edited by DonnCath: 02 June 2011 - 04:24 PM