first off, I need to pay for a trip to Australia. So I gotta sell just about everything I own. No trades please. Paypal or MO.
I don't have pictures for a lot of the stuff just yet, but I will list everything in detail.
1. Markers
-Custom sniper. I have spent a long time putting this together and spent way more than I'm selling it for. The body was made by Mr. Free Flow himself. A few people on MCB did quite a bit of research on it. The name of the body is the 32 degrees Prococker. It has no labelings as such, but it has been matched with many others like it. It contains freeflow internals besides the valve, which is a shocktech rat 3:16 valve. The bolt is a ANS quick pull, the pump kit is a noxx custom. The KAPP frame consists of a KAPP plate and a shocktech roller sear. the body is in good condition. there are few nicks in the anno, only above the grip panels, below the feedneck and one on the fins. The reg works great, I bought it barely used and is pretty much broken in. there is a small bit of flaking on the top part. All together I've put in just about $400 in parts, mostly brandnew or barely used. Here are some pics: PENDING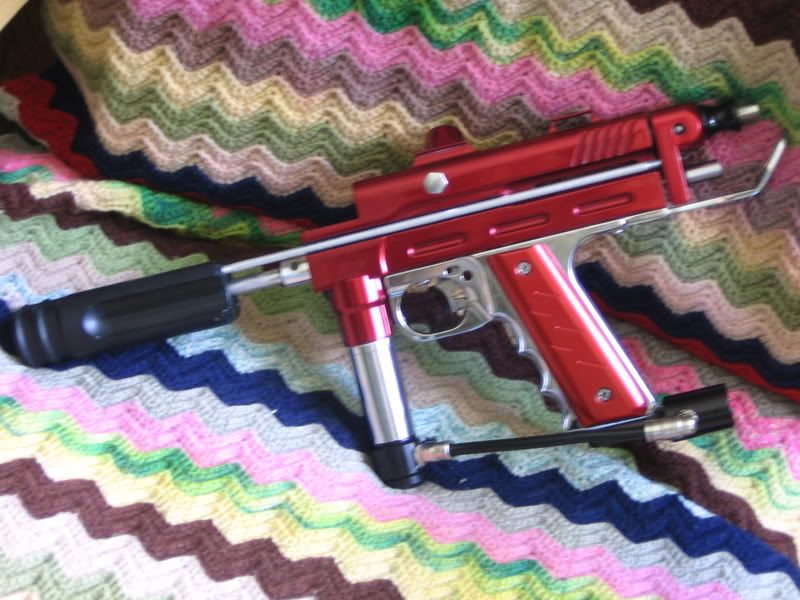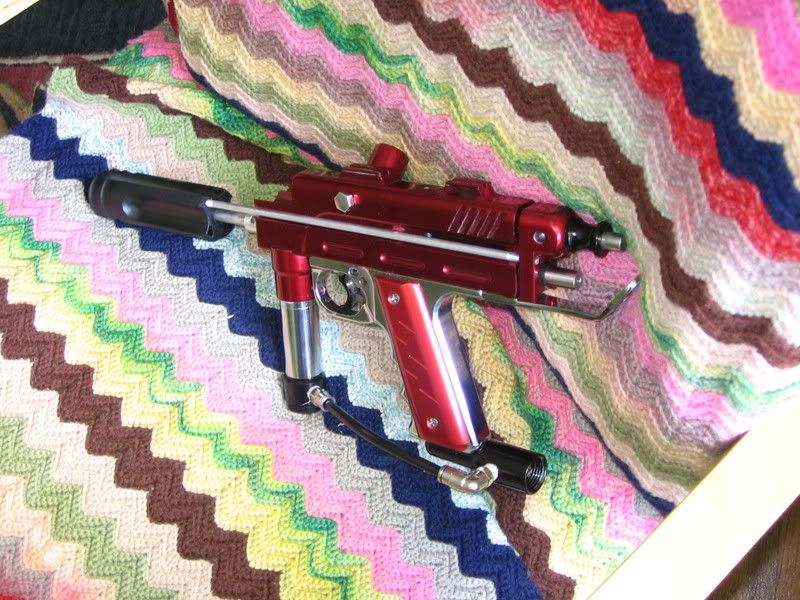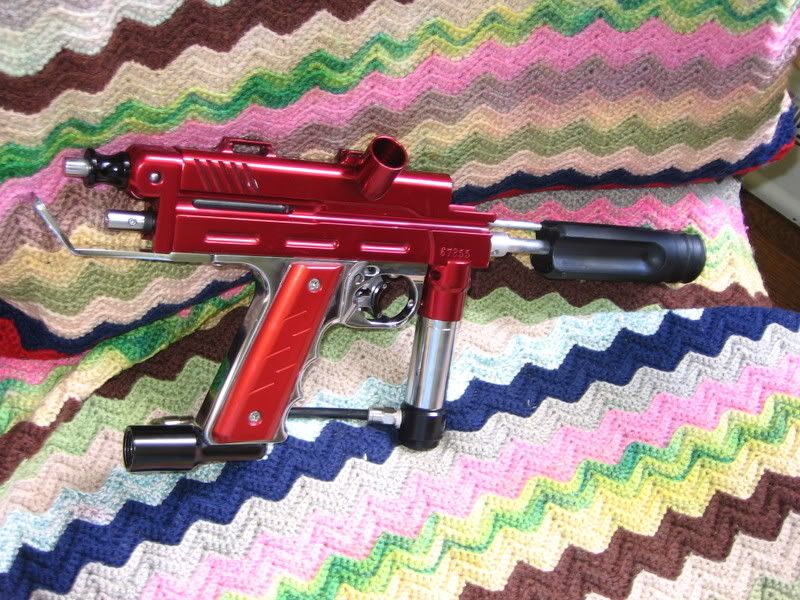 it will come with this barrel kit: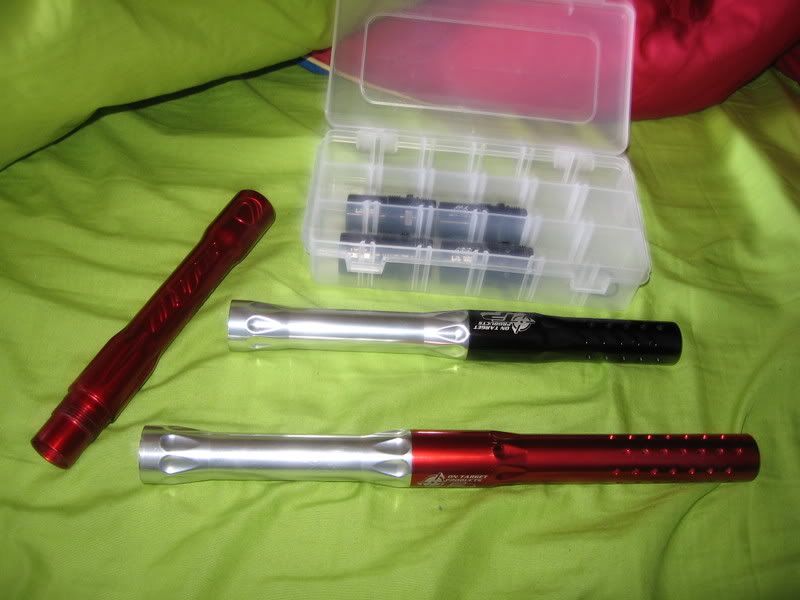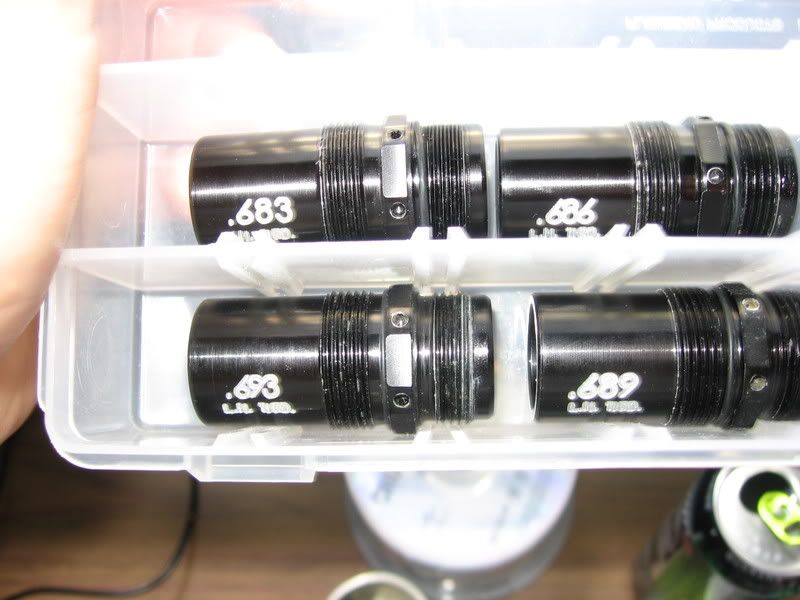 UL back not included.
I'm only asking $265 pp and shipped.
-Spyder MR-1 olive. Works fine the front LPC is chewed up a bit, but the marker works fine. cmes with stock barrel. I've had many fun times with this thing. only $55 shipped.
-A5, this one is missing the bottom line, and hopper. it does have a pod cap as a makeshift tac cap. comes with option of double or single trigger. Also has no barrel. I will add the proto for $20 or the flatline for $5. It has been painted a green and brown camo. $100
2.140rd pods. I have 6 barely used and 4 new in package spyder pods (7 clear 3 blue) and one green 32* pod. All are in great condition and the lids on these will never come open on you when running jumping or anything. $1.50 each with anything else or $10 shipped for them all.
3. I have 3 green opsgear 50rd pods. They are all used, but great shape. they cost $5 new.I'll sell em for $2.50 each. plus $1 shipping per pod.
4. Barrels.
-red used .688 a5 threaded dye ultralite back (see pics of barrel kit). I want $15
-cocker threaded 12in CP two piece. .685 back clear and purple front. Good condition I've only had for a couple of months $35
-A5 threaded 14in black proto barrel. barely used $25
-A5 flatline, no shroud, and noise dampening holes drilled in the bottom. still works great a little wear and tear on the outside. $15
5. Hoppers.
-45rd winchester hopper. Brand new never used, but never had packaging. $5 PENDING
-spyder hopper, black 200rd, hinge is broke. free with anything
6. tanks.
-Air America 48/3k steely.the reg and body is scratched up a bit, but it works fine. comes with thread cover, nipple cover was lost during last time of play. It is labeled as 03/05 so it needs a hydro in March 2010. Still has 2 years on it and will pass the test. $35
7. soft goods.
-nxe camo 2 pod pack slides onto any belt. fine condition. $5
-Hell Survivors Global Conquest '07 green team England jersey. size L on the big side. Great condition and a cool looking $15 SOLD
-'04 proto red jersey, bought new back in '04. decent condition, no holes. size small, but it fits me fine (i wear large) $12
-proto '07 knee pads. look to be in fine condition, i love em to death. size m/L. $20
8. cocker and random stuff.
-complete psychoballistics 2k frontblock (blue) looks great works great. $25.
-custom front block with: ANS jackhammer2 (red), shocktech bomb (red), volumizer, shocktech ram(clear). comes with a purple identical ram, an ans mini ram (barb broke on it) and a chewed up but working ans 3way. worked the last time I used it with a small leak in the ram, new hoses and comes on a black system x pre 2k block. $27 (hell the bomb is worth more alone).
-4 pieces purple macro (3x 1ft 1x 1/2ft) $1 e
-1 half foot piece of grey macro. $1 with the other 1/2 purple piece
-brand new 2 hole 32 degrees duckbill $8 shipped comes with screws and hole fitting
-3 pull thru squeegees great condition all stick into themselves $3 e
-2 Trinity battle swabs (identical to redz) used, but great condition. $3 e
-straight shot, great condition $5
-45* black humped hougue panels. great condition $6
-chrome ergo reg, works great. $25
-KAPP purple tear drop great condition. $10
9. masks
-red proflex, lens needs good cleaning. has a laptop fan attached, just needs a 9vlt. $30
-white event, awesome condition, i probably wont let this go. $85 obo
All prices are OBO, and include shipping unless under $5. Anything under $5 will ship free with anyother purchase of >$5. I'll have pictures up asap.
This post has been edited by Chaos Fiend: 23 November 2008 - 09:52 AM