For sale for
$320 SHIPPED
. It is in great shape. Not used that much at all.
NO TRADES
Paypal preferred.
I have a used HPA Booster that we have been using at our field. We have since upgraded to an automated booster and no longer have a need for this one. It has worked out great boosting off of scubas and larger home compressor for drive air.
It was purchased through:
http://shop.vendio.com/supplyndemand/item/...5/?s=1220783660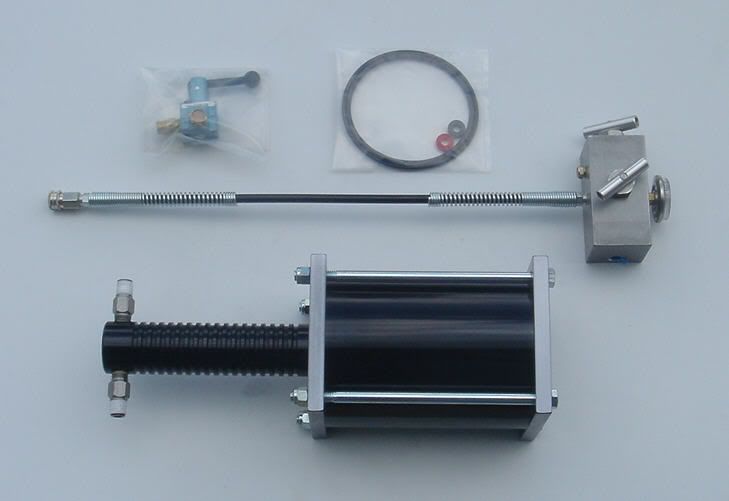 Information on the Booster is as follows from the Manufacturers website site listed above:
Quote
This is a HIGH PRESSURE air driven gas booster which was designed specifically to fill Nitrogen/Compressed Air tanks for paintball. Completely full fills every single time. This booster does the same exact thing as the booster at your local paintball field. It is used to BOOST the pressure of Nitrogen or Compressed Air UP TO 5000psi using shop air pressure (90 to 100psi) to drive it. 3000psi, 4500psi, and 5000psi fills are no problem for this booster. This booster will not compress atmospheric air to fill your paintball tank. You need no less than 500psi of input air to start. Even though this booster will work with input air as low as 500psi, I really recommend 1500psi or more, to reduce the time it takes to fill a tank.
The simplest way I can explain the function of this gas booster is like this: 1500 to 3000psi compressed air or nitrogen + This Booster + your regular 100psi shop air compressor = 3000, 4500, or 5000psi Paintball HPA tank fills.
Here is a link to a pretty good article concerning Scuba tanks, boosters, compressors, the advantages and disadvantages of each system:
http://www.paintball...m/pressure.html
Got a full SCUBA tank and you want to fill your paintball tank? Well, as soon as you fill your very first tank, you will see that the pressure in your scuba tank drops with every fill. Your second fill will be less than 2800psi, and the third will be about 2500psi, until the fill you get will have so little pressure, is not enough to play a game with. With this booster, your full SCUBA tank, and a regular old 100psi air compressor, you can get 3000psi, 4500psi, or 5000psi fills every single time until your SCUBA tank pressure drops below about 500-1000psi.
This booster is similar to a Haskel, Teledyne Sprague, Mega Booster, Air America Genesis, or Paintball Mania/Nitro Duck air driven gas booster. Just like the Genesis, this unit is not self-reciprocating (that simply means you will have to open the drive valve by hand for each stroke). This booster was designed to be used by a small field owner, Tournament/Scenario team, or even your average recreational players.
This booster requires no electricity. To operate this booster, you must have two things, a supply of compressed air or nitrogen which is 500 to 1000 psi or greater (like a SCUBA tank or bulk nitrogen/HPA tank), and a supply of compressed air at 100 psi to operate the booster. Any standard shop air compressor will work great for the drive air. I recommend that the the flow rate of the compressor is 5 CFM or higher. You can use a smaller air compressor, like the little $60 ones at Harbor Freight, but you will not be able to fill tanks as fast. A few people even use those small portable 12 Volt air compressors with storage tanks, and a pressure switch, like the ones used for air horns. Those compressors will work fine, as long as you are not in a hurry to fill your tanks. If you have a high pressure regulator, you can regulate some of your high pressure air to 100 psi, and use that to drive the booster. Using a CO2 regulator and expansion chamber, you can even use your empty 50 pound bulk CO2 tanks to drive it. Simply hook up the nitrogen or compressed air (500 to 3000 psi) to the high pressure side of the booster, connect the shop air to the drive (low pressure) side of the booster, snap your tank onto the fill station (included), and you are ready to go up to 5000psi.
So far, the "bootstrap" configuration has been the most popular setup with my customers. Because this booster requires no electricity to operate and only weighs about 15 pounds, you can strap it to two scuba tanks (one for the supply air, and the other for the regulated drive air) and take it ANYWHERE. A full 80 cubic foot scuba tank should give you about 6 to 8 fills (from empty) for a 68 ci 4500 psi paintball tank, and about 10 to 12 for a 68 ci, 3000 psi tank. This is, of course if you use one as supply air, and the other one regulated for drive air. Think about it...you take ONLY two full scuba tanks and this booster with you to the field, and you got at least 6 complete fills from 0 to 4500psi. It doesn't get any easier than that.
The pressure ratio is 50 to 1. That means that if you use 100 psi to drive the unit (with no less than 500 to 1000 psi input) you will get as much as 5000 psi out, and it only takes 90 psi of drive air to go to 4500 psi.
This all aluminum gas booster was designed and built by a Mechanical Engineer using Computer-Aided Design and Computer-Aided Manufacturing, and functions safely at 7,000 psi all day long. It has been hydro tested to OVER 11,000 psi, (yes, eleven thousand!!) and every single booster we sell has been duty cycled 50 times at 5000 psi in order to insure that when you get it, it will work flawlessly. I have included all necessary fittings and valves as well as a complete rebuild kit and instruction sheets. I warranty this booster against defects in material and workmanship for a period of 90 days. If you have any trouble, just send it back, and I will either repair or exchange it so that you can get back to filling tanks right away.
Because of the many different ways to set this unit up, I have NOT included the gas supply hoses. You will have to run a hose to your high pressure supply and one to your drive pressure supply. If you plan to use the "bootstrap" configuration mentioned above, you will also need to buy a high pressure regulator, like an oxygen regulator from a torch. I found one of those at Harbor Freight for $40.
The whole booster can be taken completely apart in less than 5 minutes using only two crescent wrenches and a screwdriver. Inside this booster, there is only 1 moving part, and 3 seals, so it is super easy to service and repair. Should you ever need service, or a replacement part after 90 days, we keep several of each part, and complete seal kits in stock at all times.
This is the Third generation of these boosters. We have spent over 6 years developing and testing this booster. Based on the responses we received from the first and second generations of boosters, we have made significant improvements to the design of this booster. This booster runs much smoother, and should give the user many years of useful service. The body of the booster is now annodized black and grey for protection, and a longer seal life. The high pressure fill station that is included has an input valve, a bleed valve, a 6000psi hose with quick disconnect, a 5000psi gauge, and exhaust vent.
I have filled my 68ci, 4500psi nitrogen tank from 0 to 4500psi in less than one minute with only 1500 psi input, however, fill times GREATLY depend on the input pressure. The more you start with, the faster it fills. You could either use this booster to save money by filling your own tanks, or you could MAKE money by filling everyone else's tanks. At $4 or $5 per fill, it would not take long for this booster to pay for itself.
I have been told by a diver that this booster works GREAT for rebreather sized SCUBA bottles, PONY bottles or argon bottles. It can be used to pump air, nitrogen, helium, or argon, but I am told, it should not be used for pure oxygen due to the fact that the high pressure cylinder is made of aluminum, and the piston is lubricated. I don't exactly know why the clyinder material matters, but that is what I am told. SCUBA divers, keep in mind that this booster is Not self reciprocating, and does not cycle on its own. It should not be used for filling really large storage cylinders. You will have to be behind the booster, working the drive valve the whole time you are using it. It should be taken apart and professionally cleaned BEFORE it is to be used for breathing gasses.
I am also told that this booster will work perfectly for recharging small high pressure compressed air bottles for use in starting jet engines on small aircraft. That application is new to me, but I don't see why it would not work for that. It will compress any gas from 500-3000psi up to 5000psi for filling small tanks. Any small tank can be filled with any gas with this booster.
Why pay $1,500.00 or more for a booster, when this one will do the same job at a fraction of the cost? If you have any questions, feel free to ask BEFORE you bid.
PayPal is preferred and will sell for
$320 Shipped
.
NO TRADES.