I'm going to float this out there to see what kind of interest I can generate.
What I have for sale only (unless you have a green/brown acid wash VSC Phantom with matching stock) is my A5. This was my first marker when I got back into paintball a couple of years ago. It served me well. Once, when I was flush with cash, I sent it to BigBone for a custom paintjob. The duracoat is a four color (Dark Flat Earth, ACU Tan, ACU Green, ACU Dark Gray) custom pattern. It was created after much debate between Bone and I (and my wife). The barrel that was painted in the same pattern is an older Armson 13" rifled. This barrel was imported from South Africa back when the company was located there. I know there is a lot of debate about rifled barrels. People either love them or hate them. I loved mine. I rarely had a break in the barrel. I loved it. I wish I could find one for my Phantom! The M4 stock has never even seen the field. I had it painted brand new and realized that it didn't fit me. The marker does prefer Tippmann parts. I've tried "upgrading" to TechT and other aftermarket parts, but it just runs better with factory parts.
I'm selling this for reasons not related to the marker. I'm a Dad with two small kids so I don't have a lot of time to play. Also, I had surgery about two years ago on the nerve in my arm and frankly, carrying it around for a full day of play just wears the nerve out. (That's why I play almost stock class anymore.)
I'm going to say $
250
. The price is negotiable.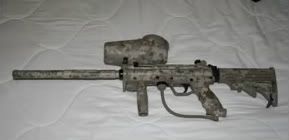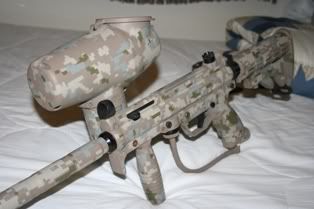 Thanks for looking.
Aloha, Doug
This post has been edited by dougdeb: 09 August 2009 - 05:58 PM